Whenever I am haunted by memories of the past, our house in Jabalpur
1
. invariably floats in to my mind. And I'm not using the word 'haunted' casually. There were quite a few rumoured ghosts floating around the house.
In 1959, our family — my parents, my brother, sister and I — moved to Jabalpur. My father was an army officer in India and used to be transferred to different places every three years. After a stint in Udhampur a non-family station
2
, he was posted to Jabalpur, and we joined him there. My brother got admitted to Class VI and I got admitted to Class II in Christ Church School. My sister was just a year old.
My father was allotted a huge bungalow with a kitchen garden at the back and a small orchard with twenty mango trees and five to six guava trees. In the orchard were the servants' quarters, as they were referred to in those days. In front was a garden full of flowers, succulents and cactuses.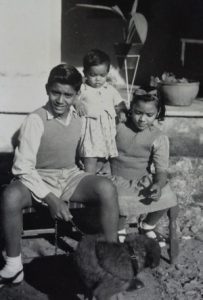 I can still hear the chirping of birds and my father's jeep honking to announce his return from work. Our dear Joseph Bhaiyya3 (my father's orderly) would come running at jet speed to open the gate, and then would run back to the porch to wait for my father to get off the jeep, to carry his things to the house.
Joseph Bhaiyya's full name was Joseph Gotham. He hailed from Andhra Pradesh
4
and his strong regional accent was unmistakable. Once we made fun of his accent and what followed (I will never forget) was my father's vituperative outburst. Joseph Bhaiyya, however, used to be devastated whenever our parents scolded us. I have rarely seen a person with a purer heart and his loyalty and sense of duty knew no bounds. When my father was transferred from Jabalpur, Joseph Bhaiyya was devastated. My father felt sorry for him and requested his seniors to transfer Joseph Bhaiyya too. He stayed with us for another three years and then retired. That day, we all cried, even my parents. Joseph Bhaiyya was inconsolable.
Adjacent to our front garden in Jabalpur, was a badminton court, and behind it a large raised platform, like a permanent stage. We had to climb three steps to set foot on it. My father warned us, never get up on the stage. But as is the nature of all children, we climbed on the stage and played whenever our parents were not looking.
Now, my father had a reason for telling us to stay away from the platform, though he didn't say it until long after we had left Jabalpur. The bungalow that was our home used to be an out- house of a local Muslim zamindar5 decades ago, where he was said to have been entertained by nautch girls. His son fell in love with one of the dancers, a Hindu; the enraged zamindar buried her alive. The platform was apparently built over her grave. There is no way of knowing if this is a true story, but many people believed it and said the house was cursed.
The zamindar sold the house to a group of Christian missionaries. They lived in the house until India's independence in 1947 and then it was handed over to the army, who re quisitioned it to officers and their families.
There was another story regarding the house that the locals narrated in hushed whispers. One of the Christian missionaries was believed to have been murdered in the room that used to be our living room.
My father, however, dismissed this story and ignored warnings that the murder could have an adverse effect on our lives. Like the platform story, he kept this one, too, under wraps. He didn't even mention it to my mother. We got to know about it years later.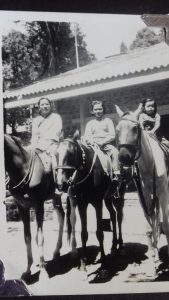 I don't know if the house was haunted or not, but life did throw us some trying times while we lived there. My sister would frequently suffer from high fever, accompanied by convulsions. It was frightening to see her having a fit, and I remember my brother getting very upset at the thought that she might die; people who worked for us would come running and try to revive her by getting her to smell a half-cut onion. It worked. We were advised to take her on a holiday to the hills which my parents did. When we returned we got to know that the person who took care of her called Pyari, had died in the quarters in our compound. My brother had a perennial stomach ailment, and my mother suffered from nervous breakdown, which traumatised us, especially my father.
These troubles disappeared from our lives once we left Jabalpur.
But our life here wasn't all dark and sinister. There were plenty of sunny days. We had a lovely family friend with whom we went for picnics often. Their two daughters, Pronota and Nandita, played badminton with us, and we would perform for our families and friends. I danced to my mother singing, my brother used to recite poetry and the two pretty, talented sisters enacted short plays.
We got close to many of my father's colleagues and their families living in Jabalpur. We were like one big family. Our picnics to Marble Rocks, at a fort that stood on a single rock and so many other places were a regular feature. My paternal grandmother, maternal grandparents and my maternal uncle would visit us as well, filling our house with love and laughter.
After my Class IV final exams, my father got transferred to Delhi and I was admitted to Lady Irwin School. Now, I am retired and yet every incident in Jabalpur is vivid in my memory. When I close my eyes, I can see the house, the gardens, the stage with the two lofted stairs and the badminton court.
I travelled to Jabalpur in 2014 with my family and went to see the house. I felt like I was visiting an old flame and wanted to say it like Wordsworth — Ah this is the house! It took us a while to find it though, for it has now been turned into a college. The garden and the flowers, which my father nurtured so lovingly, are all gone to make space for buildings. Half of the round verandah that fronted the house, has been turned into offices, and the badminton court has become a parking lot. The platform, of course, has been dismantled. But one glimpse at the spot, and all the memories came dancing back to my mind. The ghosts of my past are yet to be exorcised.
Footnotes