I do say that it is in my blood to run the Knight's Fish & Chips Restaurant in Glastonbury. I was, after all, born above this place. My husband Kevin and I, however, did not take over the business till 2010 when my father Bill Knight sold it to us. Our son, George has decided to join us full time and our daughter Claire works part time, and together they constitute the 5th generation of the same family running the Fish and Chips restaurant. That makes it iconic since it is the only one in England to have been with the same family. This was confirmed by the National Federation of Fish Fryers, based in Leeds and reported in a local news website when we celebrated its centenary in 2009.
Frank and Louie Knight 
The Fish and Chips shop was started in 1909 by Mary Lousia Phillis in partnership with Mrs. Hockey. In 1932, Mary's daughter, Louie and her husband Frank Knight took on the business and lent their name to the restaurant. 'Knights Fish & Chips' was born and continues till date. Louie and Frank were my grandparents. They faced some of the most challenging and rewarding times. During the Second World War, fish and chips were not rationed and became significant to the local residents and visitors from outside. There would be long queues from the door out into the street. Louie and Frank had to survive three Cod Wars between United Kingdom and Iceland over fishing rights in the North Atlantic1. All of them ended in victory for Iceland and that meant uncertainty and fluctuations in prices. However, after many wars and negotiations, our supply of Cod is still from Iceland. 
My father was a late child, born to Louie when she was over 40. Frank died when my father was young. I have never met my grandfather and my memories of Granny Louie was of an old lady. She made faggots and fish cakes for the shop, but I don't remember her actually serving. After her husband died in his 50s, my uncle managed the shop before he also died in his 50s. Unfortunately, Granny had dementia in the last 10 years of her long life as she died aged 92.
My father and I
The business passed on to her son, Bill Knight and his sister Iris Look (nee Knight), my father and aunt. They oversaw the business whilst Iris's daughter managed the restaurant for many years. On the death of my aunt in 1999, Bill took over the entire business on his own. He also renovated his grandfather's cottages, next door, and now rents them out as self-catering accommodation under a new company.
I have been a sports coach and Head of Net Ball in the well-known Millfield Private School. I used to work at the restaurant during holidays and vacation. Kevin worked as a Manager in a Joinery company and then as the Business and Financial Manager for local businesses in the County Council. My father had been quite keen that Kevin should take more interest in the restaurant business. From 2008, Kevin began to learn how to make the batter and to fry from Dad and my cousin who was working and also started to manage the business partially. 
Kevin with his pail of batte

r
It was only after assessing the prospects and when we had enough money saved to buy the business that we finally took the plunge and haven't looked back since. We had decided that I would leave my job as soon as I was able to earn the same amount from the restaurant and I finally resigned from my position in school in the Easter of 2017. George too decided to take this up as his full- time career. 
The success of this business has a lot to do with the nature of the town, Glastonbury and its unique features. When I was growing up, I was aware of the strong presence of 'Hippies' in the town. For the last 10 -15 years, it has grown to be a pilgrim centre for mysticism and spiritualism where people from all over the world congregate to experience the aura of the place. There are special festivals to mark different occasions, like the Goddess Conference, Fairy Ball and Dragon Parade. We see people coming in dressed as fairies, pixies, goddesses and green men. It is so much fun serving them. I love the diversity of our customers. As a people's person, I could not have asked for a better profession.
One evening, during the Fairy Ball, two lady customers came for a meal. I spotted wings sticking out of their bags. While they were being served, they said the town was so busy that they hadn't found any place to stay and change. They were going to be picked up later that night by their partners. They asked me if they could use our facilities above to change and I said, 'Go for it.' They were there for an hour. When they came down they were both dressed as fairies. It took us weeks to clean up the glitter.
Rick Steves, the American travel writer visited us and we feature in his guide book on Explore England. We have also had other celebrities like Nicholas Cage whose son goes to Millfield School, Nick Knowles, Keith Allen drop in for meals. 
The Restaurant now
The present building is Grade II listed medieval construction and certainly adds to the character and heritage of the business. But in reality, Kevin and I have had to make several changes with modern taste and customs. Therefore, burgers, salads and chicken appear in the menu. On Thursdays, there is gluten free menu. In what used to be strictly a cash only business, we have had to introduce the facility of payment by card. There is a huge demand for take away meals that we cater to. We take orders over the phone and make sure that the food is ready on time as people, especially the young, don't like to be kept waiting. Competition from fast food chains and other take away is strong. But it is the loyalty of our customers that is our mainstay. 
At this table for 60 years
The recipe of the batter, however, is traditional and handed down which is the key to the success of the restaurant. We have four fryers and each of them do their own batter with marginal variations. Kevin's, for example, is always a little thicker than the others. We cook 95% of the food we serve. Typically, each day we use 2 to 3 gallons of batter, 100 kilos of chips and 80 to 100 portions of fish in the busy season. Our staple continues to be cod and haddock. Our fish is supplied every morning at 6 and the fish is frozen at sea. A couple has been coming for dinner once a week for the last 60 years, sitting at the same table. 
Interestingly, during the Glastonbury Music Festival that is held 7 miles away, the town goes dead and appears like a ghost town. Small businesses open mobile shops in and around the festival premises. We have discussed at length if we should do the same and eventually decided on remaining where we are and doing what we do best-make the best fish and chips in the neighbourhood.
Knight's still remains with the family at the helm, 'preparing, cooking and serving the food you love. PROUD TO CONTINUE THEIR GREAT GREAT GRANDMOTHERS GOOD OLD FISH AND CHIPS!' For future, 'We will still be here for our 125th Anniversary.' I feel proud and privileged. 
Charlotte and Kevin Mitchell have always lived in Glastonbury, Somerset.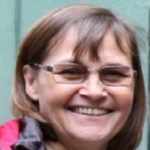 Charlotte Mitchells runs the oldest Fish and Chips shop in England with her husband. They live in Glastonbury.
Footnotes