On a recent trip to Bangladesh, she finally found the answer to the much asked question.
Having been born and schooled in Kolkata and switched to cities like Mumbai and Cambridge for a considerable period, the question "Where are you from?" always chased my consciousness. The deeper undercurrents hidden in it eluded me due to academics but the question would raise its momentary hood time and again. The obvious reply would be Kolkata due to my stay there till the age of 16 and as it's also where my parents lived. I never thought that the whole idea of 'my roots' would be challenged at some point.  
Recently, my PhD fieldwork related to urban housing and governance gave me an opportunity to explore the city of Dhaka. A friend suggested: "You are going to a foreign land devoid of any local contacts, so be safe and take adequate precautions." Her emphasis on 'foreign land' did not strike me as odd at that point. As I was busy sorting out last-minute affairs a day before my departure, I got a phone call from my maternal grandfather. That call was the first to ease my apprehensions about a 'foreign land'. He said, "I want to add something to your itinerary – can you search for my birth place in the hinterlands of Bangladesh, which I left as a child due to the conflict of partition in 1947? No one ever visited it after the independence and it's my dream that one of my progenies would get me the soil where it stands today". 
My paternal and maternal grandparents were born in the remote villages of pre-partitioned Bengal, now part of Bangladesh. The emotional plea from my octogenarian grandfather struck a chord and I decided to plan a trip along with my parents in search of our roots.  For several days prior to the journey, I diligently research two locations – Sreemongol in Sylhet (the birth place of my paternal ancestors) and Bhola in Barisal Division (where the maternal side of my family came from). On the D-day, armed with my grandfather's detailed description of his house and its location on Google Maps, we began our journey.
Travelling to Bhola, the largest island of Bangladesh, was a scenic yet adventurous experience. We took an overnight ferry from the ghats near the Buriganga River in Dhaka. The beautiful landscape along the banks was captivating. The serenity made me reflect on the traumatic journey my grandfather had to undergo in the unsettling period of partition, the hardships he faced in Calcutta, the pain of leaving everything behind and starting out a new life from the cinders of hope.  The following morning, our ferry entered the Bhola canals and dropped us near the terminal. It was a poignant moment when we stepped on that soil. Overwhelmed and apprehensive about the road ahead, the search for an elusive house began.
My grandfather had suggested that we look out for a senior citizen in that area or figure out a local temple and approach a priest to get some historical context about the neighborhood. We were fortunate to find an octogenarian who provided some vague but crucial clues about the topography: like the several such parcels of land and houses resembling my grandfather's house. Within the next few hours, we wandered aimlessly, striking up conversation with random seniors. By sheer serendipity, we met a person who knew the location of my grandfather's house. We weren't sure about its current status knowing well how the hammer of redevelopment has been demolishing old homes across the region. 
That hammer had escaped my grandfather's house. As it turned out, it was one of the last surviving houses in the neighborhood. The house, a 95-year-old structure, remained intact, and matched my grandfather's exact description. It was a two storied house built of teak wood, which, my great grandfather, surmounting logistical odds, had imported it from Burma.                                                                                       
Once the current residents learnt why we were there, they welcomed us. It turned out that the current owner's grandfather and my great grandfather had been close friends and had even worked together. The connection made, we were made privy to the room where my grandfather was born, the pond where he had fished, the huge gardens the family owned and even the area where my great grandfather's ashes had been kept.
During that emotional tour, I suddenly remembered that I had a job to do. I visited the inner courtyard of the house and packed some soil in a bag for my grandfather. The journey left a deep impression. In a moment of epiphany, I realised the real meaning of a ''native place'' and connections to your roots. We had a similar expedition the next day in Sylhet to discover the house of my late paternal grandfather. 
Every PhD fieldwork begins with multiple questions, but mine resulted in answering a simple yet profound question about my own roots. By connecting to my ancestral roots, I finally found a decisive answer to my perennial question, 'Where are you from?'
An earlier version  published https://www.dnaindia.com/lifestyle/column-where-do-you-come-from-2277225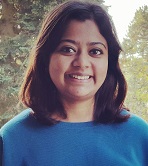 Shreyashi Dasgupta is the Jawaharlal Nehru PhD Scholar at the Centre of Development Studies and Girton College, University of Cambridge, U.K.