An image of my parents -in-law that's never ceased to inspire me – a picture of Sharad Pandya who was part of Kakasaheb Kalelkar1's group and the curator of the Gandhi Smarak Sangrahalaya2, Rajghat. Ammi, Kajal Pandya (nee Banerjee) worked at the Gandhi Peace Foundation. This is a picture of them as a young newly married couple. Vishvajit, my husband, dates it to sometime in the summer of 1953, taken at Shimla Studios, Connaught Place, New Delhi. It was taken about a week after the young couple Sharad Pandya from Gujarat and Kajal Banerjee from Bengal were married in Cuttack in the presence of among others, the Gandhian litterateur and my father-in-law's mentor, Kakasaheb Kalelkar and Nabakrishna Chaudhuri, Gandhian political activist and then CM of Odisha related to my mother-in-law through marriage. The nuptials were simple a hasta milap3 with khadi threads tied onto the wrists of the bride and bridegroom, a registration and songs and recitations from Gandhi's Ashram Bhajanavali.
I asked my mother in law what she wore that day- she smiled and said " my favourite off-white khadi cotton saree with a green border". As a student of Sewagram at Wardha she'd vowed to wear khadi all her life. As the years went by, she added colours to her wardrobe but remained deeply attached to the whites and off whites she wore as a young woman. Sharad and Kajal grew up in different parts of the country, spoke different languages and were steeped in completely different cultures. Their marriage was negotiated by a group of Gandhian Elders and solemnized through Gandhian rites. They might have remained Shimla Studio's oddest couple, but they remained married for over fifty years and never for a moment did they regret the seeming austerities of their wedding – one without colour, lightness or display. As I look at this image every morning, I simply wonder how Gandhi could have touched the lives of so many young Indians in ways he could never have imagined.
But there's another story about the life and times of my parents -in -law that's stayed with me ever since I got to hear it. When I was married to Vishvajit and introduced to my mother-in-law as 'Ammi' I was intrigued. Why would anyone born of mixed Gujarati and Bengali parentage, choose to address his mother as 'Ammi' and not in the Gujarati 'Ba' or in the Bengali 'Ma'? I later learned that Vishvajit's first words were not only taught by his parents but by a remarkable woman named Raihana Tyabji.
At the time he was born and all through his years in school, Vishvajit grew up in an extended family of Gandhians led by Kakasaheb Kalelkar. In this group that worked to preserve the memory of Gandhi through museums, archives, ashrams and memorials, there was Raihanaben Tyabji along with Saroj ben Nanavati. Raihana Tyabji was the grand daughter of Badruddin Tyabji4. She grew up in an aristocratic Muslim family in Baroda and was steeped in the values and manners of the Victorian upper- classes. Her chance encounter with Gandhi in Bombay in the 1920s changed her life forever.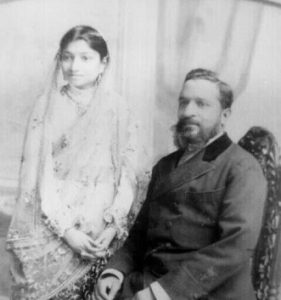 Raihana became an ardent Gandhian, renounced her upper-class ways, marched, picketed and participated in every Gandhian movement and went to prison several times. In the course of her political struggles she discovered her 'love' for 'Krishna' and this marked the radical turn in her spiritual quest for transcendence. She never gave up the Koran but said she read it with the 'heart of a Gopi'. She sang and composed numerous bhajans as she read the Koran, wrestled with its teachings, discovered the Gita and found what she believed was her 'middle path'.
She was very fond of my parents-in-law and took Ammi under her wing. She gave Vishvajit his first lessons in English and became an advocate for his education in Delhi's elite Modern School. By the early 70s Raihanaben became a recluse and soon after felt she was losing her mind. She breathed her last in 1975.
I never knew about her until I married Vishvajit, but since then have been reading about her in a few books and articles that have come out in recent times.
On this 2nd of October my thoughts are with Raihanaben, Sharad and Kajal, the unsung Gandhians who brought Gandhi close to the lives of many a young Indian in the course of their extraordinary lives.
Madhumita Mazumdar lives in Ahmedabad, Gujarat.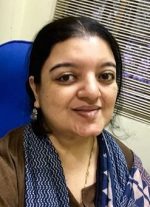 Madhumita Mazumdar is a member of faculty of Dhirubai Ambani Institute of Information Communication Technology, Gandhinagar, Gujarat.
Footnotes