Jan 21, 2016. It was an ordinary day in the office until I got a call from my sister in the afternoon. She was sobbing on the other end. I had a hunch why she'd called. Mama was gone. 
Mama was born into a poor family in a remote village in Sichuan province of China, on June 1, 1922. Like most people in the countryside, Mama never went to school or received formal education of any kind. As a young girl, she learned to work with crops in the field and raise poultry at home. She was also very good at sewing and knitting. She remained illiterate her whole life.
Mama met Papa at the age of 17, when China found itself on the losing side of the political contest with Japan. Though luckily the southwest region, where Sichuan province is located, was far from the major battlefields and the presence of Japanese troops in the north and the coastal areas, life was a struggle for the general public with all life necessities in scarcity. Economic development was nothing but a pipe dream with the whole nation preoccupied with surviving and winning the war. Mama started her life in the waters after tying the knot with Papa, as Papa, an orphan, was a helper on a boat since he was a young boy. Mama never got used to the life on water, feeling weak and suffering from seasickness all the time, which was compounded by poor hygiene and malnutrition. 
Despite the distressing living conditions, Mama made through her first pregnancy and gave birth to a boy at the age of 18, who unfortunately died prematurely only a year later. She lost four babies in the years to come, either due to miscarriage or infantile  mortality.
Exhausted and heartbroken, the young couple decided to a new start life, ashore. After settling down in a small village by the river, they had a little hut built with mud and hay. Mama finally got away from seasickness and her health gradually improved, while Papa had to continue his work on the river, which was the only source of income. He would come home once or twice in weeks when the boat anchored by the shore.
While Papa was away, Mama was in charge of all domestic matters, big and small. Though life was still hard, she managed to get by, with planting  and caring for crops in the field and raising chickens and ducks around the hut. The family expanded with Mama giving birth to uncle Min in 1950, aunt Qing 1953, uncle Wen in 1956, my mom Lan in 1962 and uncle He in 1965. She lost another son to the absence of good medical care. The baby was only two years old, between aunt Qing and uncle Wen.
Though unable to read or write herself, Mama was very smart and attached great importance to education, insisting that all her children went to school. With that goal held dear to her heart, Mama worked strenuously, finding every means possible to augment family income. She got up early in the morning, while it was still dark, to prepare breakfast for the kids. All day, apart from keeping the house sparkling clean, she tended to her wheat or corn crops and fed the birds. In the evening, after making dinner and putting all the children to bed, she sewed and knitted, making clothes and cloth shoes, which could be sold for a small amount of money. This was her routine, day after day, all around the year, until the youngest child reached adulthood and could stand on his own feet.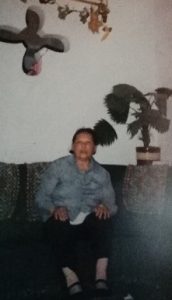 After the war with Japan, the civil war, and the many bold but disastrous political experiments that pushed the country even more backwards, China was finally back on the right track. Economy started to take off and people saw light at the end of the tunnel. Life began to improve for Mama as well, with children growing up one by one and the family including more bread earners. The family tree continued to grow and flourish with the five children getting married and new members joining in.
A new   two-story brick house was erected in 1982. Mama was long freed from farm work, but she could not stop. One by one, she helped raise her grandchildren. Whenever a hand was needed, she stepped up immediately. She was there when uncle Min used to be overwhelmed with crop harvests every year. She was there when my dad reached several dead ends looking for a right place to build his small factory. Mama lent the ground floor free of charge and served as the cook for workers in the factory, for years.
When things were looking up, life gave Mama two major jolts. Papa passed away in 1987. Her youngest son He, also her favorite, got mixed up with a bad bunch and gradually sold his soul to gambling.  Tired of running from debt collectors, he fled one night and disappeared. He never showed up again. Rumor had it that uncle He was killed in a coastal city in the east not long after he vanished from the hometown. What happened to him was never confirmed and was never discussed; it became something of a taboo within the family.
Never did Mama complain about all the suffering she had had to endure physically and psychologically in her life. Conditioned by one of the most regressive traditions of old China, by which women were taught to be invisible and to follow the male figure in the family, namely the father, the husband and the son in a life sequence, Mama remained humble and quiet. After devoting her whole life to the family, she never made any demands for herself, in return. Instead, in her senior years, she thought herself to be a burden to her children and insisted on living alone. She bought her own casket and grave clothes, picked a spot, close to where Papa was buried, and announced a very detailed arrangement for her funeral with the family, all to spare her children what she believed would be a big trouble when she was gone.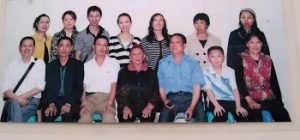 Mama stayed healthy until Alzheimer set in, in her late 80s, which led to the family decision that she would be taken care of by the four children in turn. Her memory began to fade and eventually she could recognize no one. Mama passed away in peace. During the final procession when her coffin was carried up to the hill, an unprecedented heavy snow in the region started. It was Mama's final goodbye. It was her making sure that she would continue to look over the family from above and her loved ones would always be blessed.
I was taken care of by Mama when I was a toddler. Though early years are a blur to me, I  can still recall many moments with her, and how doting and protective she was. She would carry me on her back and take me to the weekly fair every Tuesday morning, about which I was crazy and always excited, because of the toy and snack vendors. Every day after picking me up from the kindergarten, she would ask me what had been taught that day and what games I had played with other kids.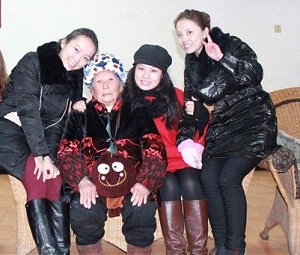 I can vividly recall the morning of every Chinese New Year's Eve, as I  ran to Mama's place and walked back home with her hand in hand for the family lunch. Every time she would check with me repeatedly if it was okay for her to join in for such a special occasion. Her eyes lighting up, she would burst into peals of laughter when I assured her and pretended to be annoyed every time, I had to picked her up. Never a talker at the dining table, Mama always listened in silence, with a big smile on her face. She loved the Chinese New Year.
Now looking back, I finally understand what a strong woman Mama had been and what a tough journey she must have had to go through. It dawned on me why every time I visited her, she would sit in the balcony and gaze into the dark until late night. Never did she shed a tear in front of me despite the many nights she must have woken up thinking about her lost babies and uncle He, and the many lonely and sleepless nights she spent crying and wondering. She never said a word, keeping it all to herself till the end.
Since I was very little, Mama was waiting for the day that I got to college. Repeatedly she kept telling me a big present from her is just around the corner if I worked hard, each time in an ecstatic tone. She was over the moon upon knowing I got enrolled, though she could never understand what path in academics I would be pursuing. Years later, here I am, leading a life that is beyond her wildest imagination to its full extent, competing with men at work, traveling around the world. Every time I look up to the night sky, I wonder if she is looking over me too with a big smile. I hope I did not fail her. I miss her so much.

Gu Yan lives in Chengdu, China.
 A free soul with a 9 to 6 office job. Traveller, food lover and lifetime learner.