The second part of June Rodd's story on travels

When things had settled down and I had bought a flat in Greenford (not far from Southall), and got my car going, I joined a rambling club and went for long canal walks with a friendly group of people. 
Southall in London
I was introduced to a family from Pakistan. The father had been left with three girls to look after (their mother having passed away). However, they were in their 20s now and had good jobs but he was not looking for husbands for them. They enjoyed being friends with me and their father felt I was a good friend for them. They did occasionally meet a boy, but would not go out alone with him, so I was a regular chaperone. We were taken to some of the London shows, also out to meals in lovely places. This suited me although I felt a bit of a gooseberry. However, Fatima, the youngest of the girls would not go out alone; this was her father's influence, I think.
They had a lot of Muslim friends whom I met and they were all very friendly indeed and always had a meal at the table and room for one more. I enjoyed the food very much. They had family in Los Angeles who came over on a visit and I was included in trips out. There was always a wedding on somewhere at the weekend and their father used to take me as a guest. I was always made welcome and loved the different food. They had dancing too, but the men would get up and dance together, and then it was the women's turn. This surprised me. I was once taken to a political meeting in London where I met Benazir Bhutto and found her very attractive and charming.
They had a nephew studying at the LSE. He was over from Dubai where he lived with his wife and three children. I met him several times and he kept inviting me over to Dubai. He went back to Dubai to start a business. One Sunday morning, I had a phone call from him in Dubai, inviting me over there for a holiday and to meet his family. I couldn't believe it. I had hardly any savings but I thought this was an opportunity for me. So out comes my savings book and credit cards to see if I could scrape up enough money to make this possible. I had no idea of the price of air fares.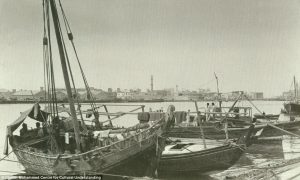 The Dhows in Dubai Creek
So, Monday morning, I started making a few enquiries. The latest thing was bucket shops where one could buy tickets cheaply without a travel agent. But it was risky. I phoned one of them and booked a ticket to Dubai. I was asked to collect it from an office building behind Oxford Street, at 5pm the next evening. When I went to collect the ticket, the office was closed, but another door opened and a man said he will be back in half an hour. So, I went away and came back later feeling very nervous, indeed wondering what I had let myself in for. However, it worked ok and I got my ticket for the following day, wondering if it was genuine or not. Meanwhile, I had to ask my boss at work for some leave, which surprised him at short notice. I boarded the plane at Heathrow and off I went to Dubai. This was in the 1970s.
I was met at the Dubai airport by a familiar face and driven to his flat where I met his family. His wife could not speak much English, but the children knew a few words. I was sent straight to bed after my journey as I was exhausted. When I woke up several hours later, I found two children in my bed, one 3 years old and the other one a bit older. I think they were interested in seeing more closely this strange person from another country. I did my unpacking to have a shower and change of clothes. It was then I realised I had forgotten to pack any knickers; in my haste, I was more concerned with long items to cover my legs! After explaining to the wife what I needed, she went to the shops and came back with 7 pairs, all marked with a different day of the week, not quite my style but they would do.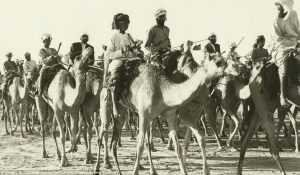 Before a  Camel Race
I loved going shopping with them and looking at all the lovely exotic fruit in the markets I had not seen before. One shopkeeper washed the fruit before he gave it to me to taste. I loved it all and we came home with several 4lb boxes of various fruits. I loved going around the Souks, looking at all the wonderful jewellery. One day, an Arab friend arrived in his white flowing garments and offered to drive me in his Mercedes to Abu Dhabi. The seats in the car were lined with sheepskin which seemed strange in such a warm country. I think this must be a status symbol to go with the car. 

I was taken to see the camel races and to a big park where they were setting up a large leisure centre with all outside activities. I think this must have been the first of its kind as it was full of local people wanting to join and children too. 
Sheep brought in on a Dhow
I loved the food there too. They received a goat from Pakistan and that made a lovely meal. I did not always know what I was eating but I enjoyed it all. While watching the TV one day, the picture changed suddenly and it was cartoons and the children had the programme and switched on a video recorder which I was not familiar with as we did not have one at home then. I must say, I found the people very friendly indeed, so kind and I was made so welcome. There was a lot of building going on; I think it was the beginning of the new Dubai, the high rise hotels and all the luxury apartments were being built. From what I see of it now, I think it has lost a lot of its character. I loved the old Dhow ships coming into port with its meat and goods from Pakistan and filling the warehouses on the dock. Anyway, my visit was almost over and I had to return to work. 
Sunset in Bali
After a month or so, Fatima was interested in a holiday and she liked the brochure pictures of Bali in Indonesia and she wanted me to go as her father would not let her go on her own and he trusted me to keep her out of trouble. I was not sure if I had any leave left for holidays or money; however, this was chance not to be missed. So off we flew complete with our summer clothes, Fatima with her bikini unknown to her father. We were taken to our hotel and settled in. Then we went in search of food, we walked along the beach until we came to the Hyatt hotel where people were eating food with delicious smells we could not resist. We soon found the food and the drinks which were out of this world. This was my first introduction to Smoothies which I still love. We walked back along the beach to our hotel which was not quite so big as the Hyatt. We used to lie on the beach and the Balinese girls would offer us a massage with coconut oil. This was lovely, and the girls were lovely and this was so cheap too. All that the girls wanted was lipstick, nail polish and any cosmetics we had, in return, they gave us a bottle of coconut oil to take home. We had several coach trips around the island and saw sacred places and rice fields. One evening, we had dancing in the hotel. These girls were so beautiful and loved dancing, their costumes were so bright and glamorous. It was a wonderful sight. 
Our trip was coming to an end and we then moved on to Singapore for a couple of more days. This was spectacular! The city was divided into various sections-Indian, Pakistani and Chinese sections; it was like visiting several countries and quite exciting. We loved the shopping in Orchard Road too. We went to RAFFLES hotel and Fatima was invited on the stage to dance. We also went to Sentosa island. I have no regrets and am happy with the spur of the moment decisions I made.


June Rodd lives in Cambourne
All Photos from Google.com