First of a two part narration of family history and childhood memories
I start writing the memoirs of my childhood in Madhya Pradesh, anecdotes and incidents of those years which had a dramatic effect on my life then and later, interlaced with mention of my grandparents, parents and elder sister. Without referring to them, the thread of narration will seem abrupt and not in harmony with the rest of the story.
I will look through rose tinted glasses at my idyllic childhood, my youth and the innocent years which are everlasting treasured memories.
Jubbulpore in 1951 was a charming cantonment town. It had clean roads, pretty public gardens, the elite Narmada Club, smart schools run by Irish nuns and priests for girls and boys like St Joseph's Convent, St. Aloysius, Christ Church and a newly opened KG School by one Miss Bose at Hawabagh. I mention this KG school because I started my schooling here before going to St. Joseph's Convent.
A small town is an intimate setting for a story. A friendly neighbourhood, we get to know the families, their pets, the local stores, post office. A sunny smile and greeting is gifted to everyone.
Our parents' friends were government officers, some business families and two lady doctors I remember, both unmarried: Dr. Mukkadam, a gynaecologist, and Dr. Mallick, a physician. I just remember a few names.
I must narrate how my grandfather (Dadu, Nirmal Chandra Ray) and my father (Baba, Nalin Chandra Ray) came to Central Province and Berar (CP and Berar) as Jubbulpore was in this province. A short account of their education, jobs and postings, as relevant to my story of Jabalpur in 1951, will follow.
CP and Berar was a Province of British India. It comprised British conquests from the Mughals and Marathas1 in Central India and covered parts of modern Madhya Pradesh, Chattisgarh and Maharashtra states. Its capital was Nagpur.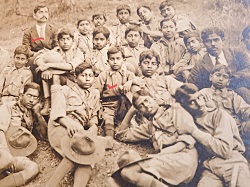 Our Dadu belonged to a zamindari2 family of Bamman Gaon in CP and Berar. His father, Navin Chandra Ray, was a prosperous zamindar, an educationist and had many books in Sanskrit and Bengali to his credit. He sent his young son (Dadu) to Oxford. He was already married at the age of 20. Our grandmother (Punyalata) was 12 years old. Dadu sailed for England, finished his graduation in English (BA Oxon) and returned home after 3 years to find that his father having passed away, all the wealth and property had been usurped by his brother and his mistress. He had got the news of his father's death while in Oxford but the rest was a shock. He had nowhere to go as they asked him to leave and to find a job for himself with his "fine education"! He found teaching positions in schools and frequently changed jobs from Peshawar to Lahore to Pathankot and finally to Simla. He joined there as a teacher in the Bishop Cotton School and later became the headmaster. Baba as a small boy also studied in the school with Dadu as headmaster. By now my grandparents had 3 children.
Dadu found an advertisement for a headmaster's post in Dinanath School in Nagpur. He wanted to get back to CP and Berar where his familiar Bamman Gaon had been.
Later Dadu stayed in Khandwa for many years and was a tutor to the Royal household of Maihar3. We had heard that he taught proper British English to the Raja also. A car was at his disposal to travel between Maihar and Khandwa for the tuitions to be regular. Dadu always wore crisp white dhoti and kurta4. That was his trademark. He was tall, fair and handsome and had a stately posture. Years later many of our friends remembered him exactly like this. He passed away at the age of 98. Our grandmother (Thakurma), who was called Phanna by all her grandchildren, was very delicate and frail in health. Her father was a deputy secretary in the British Government. She had lovely stories to tell us about her life in Delhi and Simla. She was very proud to have studied in Tara Hall, Loreto Convent, Simla, as the only brown girl, along with her sister, among all whites. Her storytelling skills were amazing. We loved surrounding her for such sessions as she narrated lots of stories of her schooldays and tales of pakkhiraj ghora (flying horse), the handsome prince and his lovely princess, in her sweet, dulcet voice.
In Khandwa they were neighbours to the Ganguli family. Baba, our uncle Dilip Kumar Ray (Kaka) and aunt Purnima (Pishi) were friends of the 3 boys Ashok, Kishore and Anoop. Later, when the boys were a little older, they went off to Mumbai to try their luck in acting and singing in Hindi films5.
Our Kaka too went with Kishore Kumar as he sang beautifully. Dadu would have none of that and he was promptly brought back to the family fold. The folly of a young teenager, his talent was nipped in the bud.
Baba did his graduation in Physics from Presidency College, Calcutta and later got a scholarship to study Telecommunications Engineering in the Indian Institute of Science, Bangalore. On completion of his engineering course baba joined the British Indian army as recruitment had begun on a massive scale for WW II. He was enlisted in the Corps of Signals. His posting started with getting telecom lines being laid in Ceylon after his mandatory training in Mhow. Various postings later, and WW II having ended in 1945, he was told by Dadu to lead a more stable life as he had married our mother Leila Bose (17 years old) in 1944. Baba joined the State Police and was in charge of wireless in Madhya Pradesh.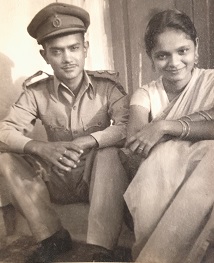 That is how in 1951 Baba met Capt. Bhattacharya in the market in Jabalpur, a friend from the army years. They had trained together in Mhow. His wife and my mother became good friends. The Bhattacharyas had a 4 year old son, Prodeep. He would come to play with us. My didi (elder sister) Pronota was 5 years old and I was  2 yrs old.  I didn't allow him to touch my toys and would whack him at times. My sister was sweet and docile and played with him. His nanny told his mother not to send him to our house as the younger girl was very aggressive.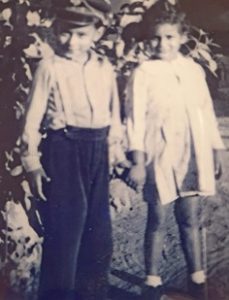 Pronota and Prodeep became the first students of Miss Bose's KG school. She was a very sweet person just as a Montessori trained teacher should be. In the meantime, Capt. Bhattacharya got posted to Yol camp in Punjab (later it would be H.P). His wife was studying for her MA in Psychology from Sagar University, so she could not accompany him. For her practical classes and field work on social activity, of parents playing with children and pets, she had taken pictures from our mother of her playing with us and our dolls' house, our picnics to Marble Rocks, Pariat Tank, Bhedaghat etc. She also took a picture of Ma with our pet deer Bambi. She described these activities with the pasted pictures in her project report, "Leisure Time Activities of the Upper Middle Class Indian Women in Jabalpur". My parents helped her in many ways even sending her tiffin. My grandmother would regularly pack paan for her. Prodeep would be in our house when his mother went for classes and later exams. Once her studies were over, they left for Yol.
Years passed and, having completed school from Jabalpur and Bhopal and BSc from Maharani Laxmi Bai College in Bhopal, I joined Lady Hardinge Medical College, New Delhi, in 1966 to start my medical education. Ragging the newcomers by the seniors was rampant. I had 2 third year girls as my room mates. One of them was very pretty.
I was asked by a gang of seniors if I recognized my roommate. I said, 'I have never seen her before'. There were sniggers and guffaws and they said my general knowledge was below standard. It was humiliating. Next, I was shown a framed picture on the wall in our room with a group of bikini clad women and asked again what I saw. I innocently said girls out swimming maybe, as they were in their swim suits. That was the last straw for them and my tears brimmed over at their snide remarks: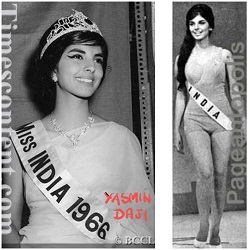 'You are an impossible idiot! Can't you recognize your roommate YASMIN DAJI standing before you, MISS INDIA, and she is 3rd in the Miss Universe contest in Miami (1966). This is the picture frame of the event'. 
My parents would request their friends and our relatives coming to Delhi to meet me and cheer me up as I was always trying to quit. I found myself to be a misfit among such smart, polished and sophisticated girls. With classes starting in full swing I got no time to feel sorry for myself and the days passed swiftly. I still had regular visitors coming to see me sent by Ma and Baba.
It was then that my parents went to Calcutta and as usual met their relatives and friends, one being Lt. Col. Bhattacharya. They found the elder son Prodeep walking in with a pile of new books and were told that these were gifts for the younger son whose birthday was on the 20th  of April. My parents said, 'Our younger daughter's birthday is also the 20th of April'. Such a coincidence! Prodeep was going on a short holiday to his grandmother and uncles in Delhi. My parents, as usual, requested him to look me up. This time I told them (over the public telephone booth, our only way of communicating in  those days) not to send any more of their friends or their children as I was ok and had too much to study and didn't like wasting  time with unknown visitors.
I had become the Games President of the college and also played the inter college tennis tournaments winning many prizes, much to my joy. I was now well settled in the day-to-day activities, and no longer waited eagerly for visitors as my parents were anyway coming every month to see me with provisions and goodies.
A few days later, the hostel Durwan came with the visitor's book to my room. I told my room-mate, Rupali, to come down to the visitor's room after 15 minutes to say that we had exams and I should hurry back to study. Prodeep greeted me with a hello and a handshake when I arrived and said, 'Oh dimple in the same place!' He told me much later that he was nervous and realised subsequently that it was a stupid way to open a conversation (how could the dimple possibly skip to another place?) He then asked me how I was adjusting to college life in Delhi. He said, 'Which books do you like to read other than medical ones? He asked me 'Have you read Victorian novels?' Immediately I said, 'Yes of course, all of them!' Then he asked 'Elizabethan too?' I repeated, emphatically, 'Of course, all the Elizabethan novels too,' not knowing there were none. He chuckled to himself (he told me later) at my trying to impress him with my being a widely read young lady. Rupali, my room-mate, arrived rather early and mouthed the rehearsed words. Immediately Prodeep said 'I was getting up anyway. I just came to look you up at your parents' request.' It was embarrassing for us, as we could make out, he knew this was rehearsed.
Next day he came again to tell me that his uncle (Kaka) and aunt (Kakima) had booked tickets for 'Dr Zhivago' and whether I was free to go in the evening. He emphasized that his Kaka and Kakima sent him to find out if I was free. His Kaka was also a good friend of Ma and Baba from Jubbulpore days. Prodeep made it quite obvious that he had not come on his own to waste my time. I could not refuse their request.
After that, going back to Calcutta he wrote to say it was nice meeting me and he was busy with his MA exams and various extra-curricular activities of the University etc. He sent me some good news too, having got a 1st and topped the class, he had started applying to Oxford, Cambridge, Rhodes scholarship etc. Meanwhile he started lecturing in the English department of St. Xavier's College. The IIM Calcutta result was out but he refused to join as he said he didn't want to sell soap and wanted an academic life.
 He appeared in the civil services exam at his father's insistence. He cleared the written exam and came to Delhi for the interview. He got the IPS which he didn't want. His Baba insisted he sit for the civil services once more. He cleared again and came for the interview to Delhi. I was in 4th year by then. He presented me with long playing record of Aradhana (it was a superhit Hindi film and the romantic songs became very popular) and a perfume OCEAN SPRAY from Pondicherry Ashram where he had recently been. I rather liked him through his stimulating and long letters and when he spoke to my friends, discussing books, plays, theatre and cinema. Before going for his interview two days later, he started running high temperature with flu-like symptoms. When I heard, I took some medicines from the pharmacy of our college and went to give him in his Thakurma's(grandmom) house. Incidentally, it was walking distance and 4 of my friends came along. Prodeep was taken aback at my concern. Before leaving he said, "Come in the evening, alone."
Later I heard the interview went off well but was dragging on and we were to meet at India Gate, so he said to the interview board, 'If we are done can I leave now as I have another appointment?' To cut the story short, as his parents waited to hear about the interview, he wrote nothing about that as he wasn't interested in a government job knowing nothing about the Indian Administrative Service. Instead wrote that he wanted to marry me and wanted their approval. It was naturally a bolt from the blue and they asked him to return to Calcutta immediately.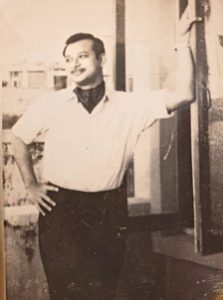 He did propose and I did say 'Yes'. This too was such a sudden on-the-spot decision to take. Somehow, I knew this was the right person.
He also wrote a long letter to my Baba regarding this decision. That was another bombshell. Baba just replied that they were interested in a doctor or an IAS officer as a prospective match for their younger daughter. He immediately replied, 'I will surely be an IAS officer as all went well in my qualifying interview'. Anyway, my parents were their close friends so they went to Calcutta to talk and after much discussion everything turned out fine. They would wait for both of us to get into jobs and then the marriage would follow, if all went well. Prodeep still wanted to pursue an academic career. His acceptance letters came from Oxford as well as Cambridge and he was called for the Rhodes scholarship interview. The future looked set.
But as we say 'man proposes, but God disposes'.
To be continued
Dr. Nandita Ray Bhattacharya is a Pathologist. She lives in Kolkata.
Footnotes