My husband Neil C. Duncan's maternal grandfather was Arthur Ramdin. Neil put together a brief biography of Arthur who clearly had non- English antecedent. The account goes as follows:

The Descendants of Arthur Marius Ramdin (1857-1925) and Rebecca Maria Brown (1862-1952) 
                                                     Introduction
Arthur Ramdin with Rebecca 
Little is known of Arthur Ramdin: he was Indian and he came to England as a boy, but his origin is uncertain. Some say that he was the unofficial son of a Maharaja, sent away to England to avoid embarrassment in high places; others say that his parents had died in a famine, and that a brother came with him to England. The name "Ramdin" was written as two separate words in early documents ("Ram Din"). It seems unlikely that his original names were "Arthur Marius"- or even "Ram Din."
 {It seems this assumption that he was a close relative of a Maharaja is true (Aunt Margaret always insisted it was a fact) He wore a stiff white collar in the Etonian tradition. Joan}                                                                                                          
Rebecca M. Ramdin, 1915
Rebecca Maria Brown was the first child of Rebecca Boxall and Benjamin Brown (described as a "journeyman tailor") of Haslemere, West Sussex. Arthur and Rebecca were married in Haslemere on 4th November 1882, and their first child (Edith Agnes, known as Edie) was born there in 1883. They went on have eleven more children, including Connie (1899)1
and their last-born George (1906). The family eventually settled in Bexhill-on-Sea, East Sussex, where they rented a large terraced house (29 Park Road: two main floors, plus a semi-basement and an attic), and then took over number 31 as well. Both houses were called "Augusta," and were run as a boarding house
2
. By 1921, the houses had been re-numbered (29 became 16)-but, for thirty years or more, the seven stone steps up to the front doors of "Augusta," Park Road, were the standard setting for family photographs. 
Seven stone steps of Augusta
In some documents, Arthur's occupation was given as "Boarding House Proprietor"-but he worked as a waiter in London, apparently, and spent long periods away from home3. However, Rebecca managed to produce her twelve children in 23 years, and they all had Indian looks. It has been suggested that, since the fifth child was given the name "Septus," there must have been two earlier children-but there's no trace of them. So perhaps it was just a misunderstanding. Rebecca, who was probably responsible for the names, was not a Latin scholar. But she could certainly count: she was particularly keen on card-games, especially if there was money at stake, and her children took after her. With no radio (let alone television), people made their own amusements. And it wasn't just cards…
The Ramdin family must have been well-known locally, or even notorious.
Rebecca M. Ramdin, 1945
Indian gentlemen were not a common sight in those days (not in Bexhill, anyway), and the dusky children, who grew into pretty young women and handsome young men, clearly attracted swarms of admirers. The "Augusta" establishment -two large houses, with many rooms-gave ample opportunities for natural inclinations to prosper. It was probably the centre of a very lively social scene-on that, in retrospect, would make the "Swinging Sixties" look like an Enid Blyton story. Indeed, the youngest daughter Lily Augusta (known as "Ba-Ba") died of an illegal abortion when she was 19 years old.
The list of the descendants of Arthur and Rebecca Ramdin (with the family) is necessarily restricted to the "official" ones. There may well be others.
:
(NCD, September 1993 revised May 2001)
The Maharaja:
Maharaja Nripendra Narayan of Coochbehar, a small princely state in the east of India, had come from Moor Hall, Ninfield to Bexhill to convalescence. 
Maharaja Nripendra Narayan
of Coochbehar
He died a few months later and his funeral took place on 21 September 1911. He was popular with the British Raj and was acclaimed at the Court of St. James, as the ideal Indian prince. All his four sons studied at Eton. When he died from complications due to pneumonia, King George V gave him a royal funeral with full military honours. A memorial drinking fountain was dedicated to Nripendra Narayan and formally opened by his son Jitendra Narayan, who succeeded him to the throne. 
Bexhill on Sea Observer. 20 September 1913 reported:
'The erection in England of a memorial to the Ruler of an Indian State must be an incident of a unique character, and those who were privileged to witness the ceremonial opening of the Maharajah of Cooch Behar fountain at Bexhill on Thursday afternoon were spectators of an event of rare occurrence and world-wide interest. The proceedings were admirably arranged and though brief in duration, they could hardly have been of a more suitable character. The Mayor, who is always seen at his best on such occasions, had the able support of the Mayoress, while the Town Clerk had spared no effort to render the ceremony agreeable to the distinguished visitors who were honouring the town with their presence. The young Maharajah, who has been suddenly called to the rulership of the State of Cooch Behar on the lamented death of his brother, made an excellent impression. Wearing a turban and a handsome native dress, he presented a striking figure. His speech was admirably delivered. Speaking clearly but rather rapidly, his voice was plainly heard by the several thousands of people gathered round, and the reference to his late father and the town of Bexhill could not have been more felicitously expressed. 
On the part of the public the greatest interest was evinced in the young Maharanee, whose marriage a few weeks ago under somewhat romantic circumstances excited so much attention. Her Highness was in European dress, her costume being black, and the members of the numerous suite were also in mourning for the late Maharajah. Smaller in stature than her husband, the Maharanee bore herself with charming modesty, and was obviously pleased with the beautiful bouquet presented her by the Mayoress. As a daughter of the powerful and wealthy Indian Prince, the Gaekwar of Baroda, her Highness was educated in England, and is therefore thoroughly conversant with Western manners and customs." 
The missing water fountain
The fountain was relocated from its original site and re-erected in, near the entrance to Egerton Park next to the Bexhill Museum.
It was removed in 1963 for restoration and has disappeared since.
Bexhill -on-sea, it seems, was the connection between Arthur Ramdin and the Maharaja of Coochbehar. Rebecca and Arthur may have chosen this seaside town to start their boarding house because it was a tourist destination or growing to be one. And the Maharaja chose this seaside resort because it was perhaps well known. Motor car racing must have added to its attraction and facilities. It is unlikely that Arthur was related to the Coochbehar royal family. Nripendra Narayan was a few months old when his father died and he had no male sibling. Members of this royal family usually used the surname 'Narayan.' But if there was indeed any connection between the Maharaja and Ramdin, it is lost to oblivion. (Editor)
https://henrypoole.com/hall_of_fame/maharaja-cooch-behar/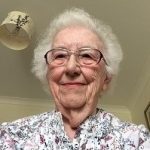 Joan was the inspiration behind this site and the first author to post a story.
Footnotes
They must have prospered as Bexhill was to be the birthplace of British motor racing. The first trail blazing races took place in 1902 and were a part of a campaign to promote Bexhill-on-Sea 'as a fashionable new resort…'In May that year, the 8th Earl De La Warr worked with the Automobile Club of Great Britain and Ireland to organise the first automobile racing on British soil. Thousands flocked to Bexhill to witness the unique spectacle. 'The very atmosphere reeked with the smell of paraffin with throbbing, puffing and snorting motors everywhere.' (www.disoverbexhill.com) " Augusta" must have been very busy indeed