My parents were married in December 1934.  As a wedding present they received a portrait of my mother from my Father's Aunt Amy & Uncle Edwin. 
Amy Durell who painted the watercolour portrait was a Royal Academician and an accomplished portrait painter.  She had the gift of expressing in paint the character of her sitters.  She has captured a wistful expression on my mother's face which she often had, and which I have never seen in photographs of her.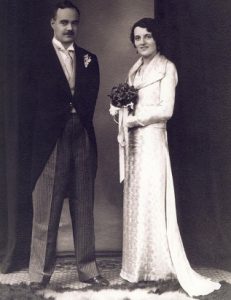 Shortly after marriage, my parents were separated for a number of years when my father travelled to Nigeria to work for the Bank of British West Africa. 
He travelled all over the vast area of Nigeria, always accompanied by the portrait, safely in its especially made wooden box.
After a few years, my mother travelled to Nigeria to be with him.  When World War II broke out, my father returned by sea to Britain.  My mother travelled overland from the top of Africa to South Africa at the bottom end of the continent.
After the war, my father joined my mother in South Africa, and my sister and I were born there.
My parents passed away – mother in 1973 and father in 1996.  The painting was in a prominent place in his study, and was a great comfort to him until he died and bequeathed it to me.
In 2015 I noticed with horror that fish moths had eaten away some of the paint on the forehead of the painting.  Having travelled great distances in the heat and dust of Africa, it had survived well.  I took it to a restorer in Cape Town South Africa, and she unfortunately did much more than I had asked her.
One of the items altered was the date next to the signature on the painting. It was originally 1934, and changed to 1984 for some inexplicable reason.  It is now 87 years old. 
Another alteration made was to one eyebrow of the sitter.  It now looks like a rather hairy caterpillar marching across my mother's beautiful face!
The last chapter in the story of the painting will be finding someone with the competence & bravery to alter the eyebrow and the date on the portrait so that it can be handed to future generations as a true reflection of Edmée Durell, my mother.