Ever wondered what is lurking in the neighbouring county?
More and more millennials are jumping on the bandwagon and abandoning London for the outer counties.
   After 16 years of the hustle and bustle of the metropolis that is London, I was adamant that a move to the outer counties could bring the change I so craved, in terms of housing, environmental and work life balance.
   It was December 2007 when I moved into my dream house, a Georgian townhouse, something I have only seen in designer magazines set in a leafy commuter belt of Cambourne, Cambridgeshire. Of course, everyone says move to the country – you will receive more for your money, but they don't tell you about the rising cost of train fares back into the capital for work. Its atrocious!  
As a recent divorcee I refused to accept a life confined to 4 walls and a cat. So, I decided to get out and enjoy the opportunities in Cambridgeshire, when a friend introduced me to the Stevenage Yachting Association. I was cautious at first as the last time I dipped into a public swimming pool, a number of 7-year olds offered me their floats after I got into difficult in the shallow end of the pool.
  Twenty minutes at the mercy of the local train service (depending if a stray cow or swan is on the line) is the town of Stevenage Hertfordshire and SOCA, the Stevenage Offshore Cruising Association. A RYA affiliated sailing club with residents from neighbouring counties of Hertfordshire and Bedfordshire, SOCA was established in 1983, its goal being to extend nautical knowledge and promote the enjoyment of sailing in a social environment. There are monthly meetings in and around Stevenage, and sea ventures are usually launched from ports on the East Coast (Essex and Suffolk) and the South Coast (Hampshire) over a long weekend. Don't forget your sleeping bag and pyjamas.
I was besotted. Once I met the Skipper Stuart, his co-skipper Tanya and boarded his yacht Wabbit 8 (any vessel with a sail is classed as a yacht), I was an intrepid sailor. I learnt how to raise and lower sails, steer the boat (with a rudder) and how to anchor on a buoy. But come nightfall came my chance to introduce my hosts to French cuisine instead of the traditional street food of Turkish kebab. Thanks to a local Tesco Metro I treated my hosts to scallops and prawns in pesto on a bed of angel hair pasta. In the morning breakfast was three egg omelettes with three cheeses, a Delia Smith classic.
   Novice, intrepid travellers are welcomed on this, especially those wishing to improve their health and safety boating knowledge and experience. Most of these boat owners encourage and teach novices the skills of ship knots, sail tactics and boat steering. If you are really unfortunate at these – like me your cooking skills (scallops and prawns in pesto on a bed of angel hair pasta) might ensure a second invite, and after a long weekend break from Ipswich around the Isle of Wight and back – would you complain? Not to the mention the night life –docking in the marina. You might want to climb ashore for a pub crawl, a kebab or restaurant, before retiring back to the boat for a night of entertainment 'sorts' (these are at the discretion of the skipper). The experience can be addictive.
 Nevertheless this is not a feature on the portfolio of your average London gym or supper club. I stumbled across this group in 2015 and have been an avid member / cook since, and would recommend it to all budding county residents or boating enthusiasts.  
And what is lurking in the hamlet nearby? 
If you seek more than a walk in the leafy suburbs, a splash in Lake Ewart or an elusive tin of beans courtesy of Morrisons, then you might like to start the ignition and head out onto the A428 and B1046 to Comberton. Unlike the overworked and exhausted commuters from London, who retreat to their abodes to recover from the day; these residents (a number of whom are retired) are intent on community building and making the most of village life.
As a resident of the neighbouring hamlet of Cambourne it wasn't long before I stumbled across the Comberton Twinning Association. Well truth be told I saw an advert in the Cambourne Crier about a fundraising event and thought what a good reason to get out and discover a neighbouring village. Twinned with the village of Le Vaudreiul, they host fun raising ventures, exchange visits and village soirees; and is celebrating its 20th anniversary. I joined in March and had the pleasure of hosting a French couple and participating in a village soiree. Not only have I made new acquaintances, discovered Comberton a quiet village just off the commuter belt route, 10 minutes from Cambourne, but I have a renewed interest in French and dusted off my dictionary and am revising the verbs and vocabulary.
   Apart from collecting and getting to know my guests, I had the opportunity of impressing them with English fare – I served lamb shanks in sherry with grilled asparagus and sweet pepper relish followed by a posset. The following morning a semi-full English breakfast of baked beans, grilled tomato and eggs Benedict, was followed by a Blue badge tour of Kings College; and lunch at the Crown in Eaton Scoton for a pint of English Ale. Against a backdrop of Brexit my guests thoroughly enjoyed their stay and are looking forward to hosting English visitors in September; and I can't wait.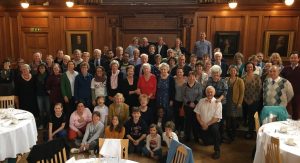 Unfortunately, I have not escaped the drudge that is the London commute but with rural life this exciting and entertaining, I can't wait to embark on another rural adventure.  
Paula Brown lives in Cambourne