I was born in a little hospital located at the tallest point in Anguilla overlooking a dazzling blue sea. I am a proud islander, a Caribbean woman. The sounds of the ocean, the golden rays of the sun, the gentle breeze that finds me on my porch or under a large tree whisper softly to my mind, my heart and my soul.
I am currently residing in the UK with my husband and my beautiful three- year-old son while my husband pursues further studies. In a few years, we plan to return home.
At just 35 miles long and 3 miles wide, Anguilla is a "beautiful rock" in the Caribbean Sea. Surrounded by 33 beautiful beaches, where ever you roam, you are always in view of or very close to the iridescent blues of the ocean. 
Anguilla has an interesting history. Anguilla was first settled by Arawaks who called it Malliouhana. In 1650 Anguilla was colonized by British settlers from St. Kitts and since then remained a British colony (now called British Overseas Territory). Tobacco and cotton did not yield good economic returns for plantation owners during the 17th century but an increase in demand for sugar in Europe led to a shift to producing sugar cane which yielded better returns. The laboring class were primarily African slaves. During this time and after the end of slavery, the British decided to join Anguilla with St. Kitts and Nevis where St. Kitts and Nevis made laws for and governed Anguilla. Anguillians were dissatisfied with the arrangement and the very poor economic situation in which they found themselves. They petitioned for a change by the British Government which was ignored. This led to the bloodless Anguilla Revolution in 1967 where Anguilla ejected the St. Kitts police, set up its own Government and declared itself an independent republic. The British intervened and Anguilla eventually was placed directly under British control.
Currently, the island has a British Governor, but the affairs of the Island are run by an elected local government. In the 1980's a decision was made to develop the Tourism Industry. This industry is flourishing today.
Visitors are encouraged to explore this beautiful gem in the Caribbean. With over 100 restaurants, beach bars and grills, Anguilla is the perfect getaway for the food lover or connoisseur. Your dining options depend on your mood and your budget. Hire a world class private chef, eat at a 5-star restaurant, relax with your feet in the sand and a cold beer at a beach bar or stop at a local grill or stall on the side of the street for some barbeque or soup. The possibilities are wide and varied.
I started this exploration of Anguilla with restaurants because I love to eat but most persons would start by describing our enviable beaches. Mile long stretches of white powdery sand await you at many of our award-winning beaches. The ocean beckons, smooth as the bluest glass most of the year, with waves which gently lap the shore and softly serenade the soul. Our beaches are never crowded. I am sometimes delighted that depending on the time of day and year, I may have the beach almost entirely to myself. What luxury, what bliss! Everyone has a favourite beach and we encourage visitors and locals to visit as many beaches as they can. It just might be too hard to pull yourself away from some of them!
If you want to do more than lie or walk on the beach, swim or snorkel, there are a host of water sports available. I love kayaking and I encourage you to rent a kayak and visit a gorgeous, secluded cove called Little Bay. You will feel like you have landed on your own little piece of paradise. Little Bay is also accessible by charter boat or climbing down a cliff with the help of rope. If you like a little adventure this is a must. Fishing, paddle boarding, tubing, windsurfing, glass bottom boats and so much more are available for you to do.
While we are on beaches, it would be remiss of me not to mention our beautiful cays. Visiting at least one is a must. The beaches are amazing and the seafood from these secluded getaways is delicious. At Prickly Pear, just 20 minutes from shore, the birds will eat sugar right out of your hands.
Accommodations on Anguilla vary too from 5-star luxury hotels and villas to smaller properties called charming escapes. Find your happy place which fits your budget.
There are several popular festivals sprinkled throughout the year. My favorite is Festival Del Mar. This 2-Day seafood festival during the Easter weekend is a must for seafood lovers. If you visit in August, participate in 10 days of our Summer Festival with pageantry, parade of troupes, music, parties, boat races and much more.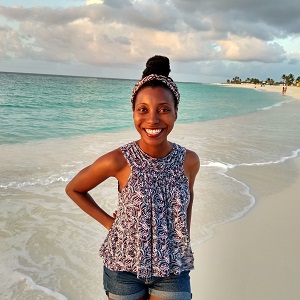 On the island you will also find wonderful boutique shopping, museums, art galleries and full-service spas to ease any last bit of stress which the ocean did not erase.
Perhaps and it has been said time and time again by visitors that the best part of Anguilla is that you come as a stranger and leave with friends and 'family.'
Anguillians are known for their hospitality and friendliness. Visitors come back time and time again. We invite you to our lovely island. As one popular calypsonian, The Mighty Springer sang
"Come to my lovely island
Have fun in the sun
Come to my paradise
                                        If you come here once you will come back twice."
Shellecia Brooks Johnson lives in Cambourne
For more information on Anguilla,  follow her blog (myanguillaexperience.com) or follow 'My Anguilla Experience' on Facebook and Instagram.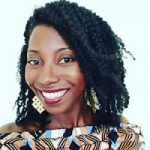 Shellecia Brooks Johnson is a travel consultant and blogger. Originally from Anguilla, she spent some in Cambourne.