Nine years after the birth of her firstborn child, Elizabeth Edwards married a lovely, well-to-do Englishman.  They had met while working in Singapore.  Liz had rejoined the public service and her career was going well.  She decided to leave work for a time after giving birth to a beautiful daughter and shortly afterwards, a son.  Roger Orland was never too far away; and he and Liz would run into each other on occasions as they both moved around the globe.  They would reminisce and speak of what might have been.
'My mother', Liz, had gotten her wish.  I was adopted by a good family, living in Sydney, New South Wales.  However, they weren't MY family.  Although Mum was a beautiful and kind soul, initially we were strangers.  After leaving the hospital in August 1965, I was flown with a nurse, in a DC9 Qantas aeroplane to meet my family who had by then moved to the remote country town of Bourke[1].
Bourke regularly coated its inhabitants with a thick red dust whenever the winds blew in.  My first years were spent wearing simple sleeveless shifts and chasing my brother around our front lawn in bare feet.  Dad was a career driven civil engineer.  Mum was missing her hometown of Northbridge in Sydney and when I turned three, we moved back there.  We lived in Mum's childhood home as her parents had already passed away from cancer.  I was to get to know my extended family members -my father's parents and my mother's first cousins, Margaret and Jill, who quickly became my favourite 'aunts'.  My brother and I enjoyed the city life and our days were spent tumbling on the sands of Balmoral beach with new friends we had made at preschool.
We were happy enough, but Dad wanted more and was  offered a position as 'District Engineer' in the cold, country town of Bathurst.  There, we soon became valued members of the local Methodist Church where our parents taught in the Sunday school, as they had in Bourke, and we continued learning to sing as part of our new congregation.  I loved singing and Mum taught me how to harmonize, something I did quite naturally.  Weekends were spent with our Church friends, helping our parents with blackberry picking and wandering fields of barley while searching for neglected ruins of churches that were once filled with joyous congregations.
My formative years passed by without too many incidents but being bullied by classmates was to be my lot throughout these years.  Adoption had retained its stigma and would do for another twenty years or so.  I hated being different and to be honest, 'I wanted my Mummy' (my real one) but if I were to bring the subject up, I was told under no circumstances was I to do so, as it would upset Mum.
On more than one occasion, I hurt Mum by pointing out the fact that she wasn't my mother and I was  at the receiving end of a good 'wallop' from Dad.  I would fall asleep sobbing into my favourite little pillow or bite my nails hard, causing so much pain that I would cry myself to sleep.  Headaches were the norm in these years, but Mum would eventually come in after I woke up and she would stroke my forehead and massage the back of my neck until the pain subsided.
Dad was a keen sailor and farmer in his spare time and if we weren't helping in the paddocks, we were chasing the wind.  He was soon offered another transfer to a bay side town called Gosford. With an immediate dislike for this 'holiday' destination, it took all of my high schooling years to settle in.  Passing my sixteenth birthday, I began dating boys and within one year, I fell into the capable and loving arms of my future husband, David.  By the time we were thirty, we had married, built our first home and family business and were raising four happy, healthy children.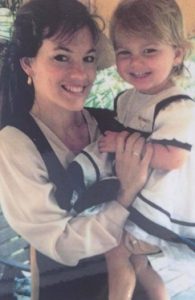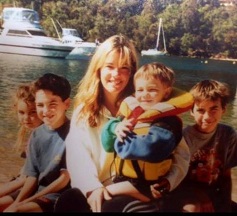 To the outside world, David and I were deliriously happy, but both he and I knew that I was deeply sad and troubled and had always been so.  When our firstborn arrived, I had felt a loneliness, more than I had ever felt before.  After some counselling, it was pretty clear that for me to move forward in my life, it would help to find my birth mother.  Of course, it had always been on my mind, but it was something I could not do to my adopted parents.  Finally, I was at peace with the idea and it was 'full steam ahead'.
Meeting Mother
After the birth of our second son, I found my Mother and we agreed to meet. We arranged to meet in a Swiss restaurant in the affluent Sydney suburb of Double Bay.  My Mother and her partner were waiting inside for us.  As we gazed at each other we were gobsmacked!  My thoroughly modern Mother had a fashionable bob-cut and wore a business suit. She was everything I dreamt she would be.  High flying, she worked in the corporate sector and spoke beautifully.
My 'welcome' to the family had come via a telephone call to my Aunt, Rosie.  I had told her, I believed I may be her sister Liz's daughter and she confirmed I most likely was.  We shared tears of joy as she explained how she had prayed for my return since 1965 and how happy she was that I had 'come home'.
I am sure you have heard of stories of 'first reunions'.  Well, I guess ours had been a pretty typical one.  After the initial greetings in the restaurant, David and I were invited to visit my Mother's apartment where she was staying.  There, she presented me with a gorgeous, brown coloured, smokey Topaz ring which she said she had purchased in Singapore in 1966 for me.  She had chosen 'brown' to match my brown eyes and had always believed I would surface on my eighteenth birthday but of course, I hadn't.
A few months later, I was introduced to my 'birth father', Roger Orland.  Eager to meet me, we had lunch at Jordan's Seafood Restaurant in Sydney's Darling Harbour.  He spoke of his love for my Mother and sadness at losing us both all those years ago.  I had earlier read a letter he had penned to the matron of 'Carramar' back in 1965 in which he thanked her for her support.  A student of the Catholic faith, he had hoped for divine intervention.
Our years ahead would see our relationships grow, but I would not be introduced to Roger's family as my Mother, Liz, discouraged our contact with him.  Our family would get to know Mother and I would know my half-brother and sister as they grew into adults and had children of their own.  We would share with each other important milestones and be involved in christenings and weddings to come.
In 1998, David and I telephoned Roger against Mother's earlier instructions and our relationship as father and daughter slowly gained traction.  In 2015, arrangements were made for me to meet his family.  A few days before the big day, he called David on the telephone, in tears, explaining that back in 1964 when Mother had become pregnant, he had had doubts about his paternity and again in 1965, he had confronted her only to have her assure him that he was indeed, the father.  We decided to have a DNA test, but he believed it would confirm that I was his daughter.  The test results came in a month later and the results were negative.
He was clearly shocked and upset.  For almost fifty years, he had assumed the responsibility for giving up on his own flesh and blood.  He had never forgiven himself for it.  A few days later he shared all he could, surrounding my conception and did not hesitate in nominating Peter Stewart as my potential father.  The difficult task had been confronting Mother with the news of our DNA result.  In complete shock and denial, she told me a few untruths that left me bewildered.  Two weeks later David phoned her, but she was unwilling to discuss the matter.  She told me that if I didn't drop it, 'we were done' and regrettably, we have not had any relationship since.
[1] A town in the north west of New South Wales
The last section to follow