The final episode in Susan's quest:
Armed with Peter Stewart's name, I persisted with my search with the full support of my husband and once birth father of 28 years.  After almost a year, I stumbled on his son through his use of a password, used on two different internet sites.  It was the lead I was hoping for and after parting with a few dollars to a private detective who had access to a site, we had the address of Peter.  I enlisted the help of two lovely women, working for an organization in Perth who happily made a call to him.  Peter acknowledged his two-month relationship with my mother and agreed to a DNA test.  The result was a 99.999 percent match.
Some months later, Peter and I met at Sydney's infamous Bondi Icebergs with David and our youngest son as witnesses.  As we sat overlooking the beautiful Bondi Beach, toward the Historical Bondi Pavilion, he told us stories of his life and two generations of family who had lived, worked and frolicked at that very spot.
Peter hadn't been easy to find.  I don't believe I would have found him at all, had it not been for some early Women's Weekly Magazine and Sydney Morning Herald that published articles about his family with  clear black and white photographs of him, aged 20.  He was leaving Bondi for Kakadu to visit his father Allan Stewart aka THE GREAT WHITE HUNTER of Nourlangie in the Northern Territory.  I had found photos in the Weekly of my Grandmother Mollie Stewart, who had won a once in a lifetime trip to Hollywood to meet the popular host, Dinah Shore and the cast of the television show, M*A*S*H.  The photos showed her laughing aboard her Qantas flight to the United States.  I recognized her laugh and the expression as my own, but it wasn't until the eve of my fiftieth birthday, that I 'knew' that I was Peter Stewart's daughter. I  burst into tears of joy as I saw myself in his image.  He could have been any one of my three sons.
In that split-second moment of time, my world stood still and the deep aching within me, 'ceased'. Life for me and my family was never to be the same.  My husband and my beautiful adult children would now know their heritage and where we came from.  A real spiritual awakening had occurred, and they were now the recipients of a truly happy wife and mother.
In 2017, David and I travelled to meet my father's sister, my Aunt Donna, living in Texas. For the first time, I would have first cousins and I would learn that both I and our children had undeniable similarities in traits and appearances with them.  Of course, I had seen this with my birth mother and my half-sister and brother as well, but to look even more like my father's family was mind-blowing for me.
Donna and I had written long emails to each other over the course of two years and she shared our family's entire history and some valuables with us.  I discovered that my grandfather, a fourth generation member of the Black Watch of Scotland[1], had gone to war in the 1940s and had fought proudly for his country.  Throughout his life, he had played the bugle in annual parades along the busy streets of Sydney while on horseback.  He had also delighted guests staying at his beloved 'Nourlangie Safari Camp' at dusk, surrounded by the beautiful chorus of natural wildlife, accompanied by his indigenous friends who danced the corroboree[2] at night.  They played their didgeridoos[3] and shared  stories of their ancestors and original owners of this sacred ground, the Mailli tribe.  Allan had found his true purpose in life and his 'happy place'.  It was Allan who I found, I identified with the most. All Stewarts are chatterboxes and I discovered that what I had often been in trouble for as a child, was indeed a genetic trait.
In 2018, David and I followed Allan's footsteps into the heart and soul of Kakadu where we found the remains of his safari camp[4].  Allan had written a book called 'THE GREEN EYES ARE BUFFALO' and we kept it by our side throughout the entire trip.  Allan had pioneered tourism in Kakadu and four years later, his close friends, Tom and Judy Opitz, who he had introduced, would marry and follow in his footsteps with a similar idea of their own. Judy would affectionately call Allan, 'Bwana' or boss man.
David and I were in our element as we donned our Akubra hats and boarded the high sided, flat bottomed boats at 'Cooinda Waters', a popular tourist destination for travellers, started by Judy and Tom.  Abundant with the most remarkable beasts and prolific bird life, we soaked up all it had to offer.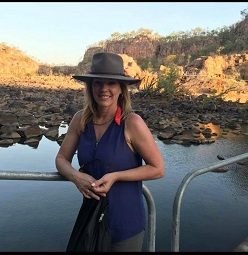 Today, the original owners of these magnificent waters are the wonderful custodians and still share its wonder with both Australian and international tourists.
The Northern Territory is a unique, World Heritage Listed Landscape.  It is home to Australia's proud indigenous people.  I feel so honoured to now have a connection to these proud people of our Great Land.
A lovely correspondence with Judy, now residing in the UK would lead me to Tapti's blog and enable me to share my true story with you today.   I have changed some of the names of the characters mentioned.
[1] An infantry battalion of the Royal Regiment of Scotland
[2] An indigenous Aboriginal dance but also used to refer to a party or other social gathering
[3] A wind instrument developed in northern Australia by indigenous Australian people.
[4] Kakadu National Park is an enormous biodiverse nature reserve in Australia's Northern Territory.
Click for part 1 and 2 of Susan's story:
[listmenu menu="ultimate Menu"]
Susan Margaret Best lives in Sydney.