I love India and I love Indian food and can cook quite a few popular dishes like daal, shahi paneer, palak paneer, chicken curry, tandoori chicken.


I was first introduced to Indian food in the home of Shahida Zaidi in Moscow. Shahida who belonged to the family of the famous poet, Altaf Hussain Hali, was a senior broadcaster in the Moscow radio. She helped me with my Urdu, taught me the finer nuances of Urdu literature and how to pronounce several words perfectly. 
I had graduated with a Master's degree in Urdu from the Moscow State University and joined the Moscow Radio. Shahida invited me to her house where I met Ranjit Basu, her husband and a senior broadcaster too and tasted Indian cuisine for the first time and loved it. This was before my first visit to India in the autumn of 1967, the same year. I spent several months in India to improve upon my language skill.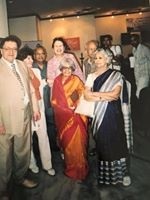 Shahida on the left and others
It was in Lucknow, one evening at a reception held in the Rotary Club where an elaborate buffet was laid out1. I knew I would love the food because I had tasted Indian cuisine in Shahida's home and therefore piled my rather large plate generously with all that was on offer. I put a spoonful in my mouth and the intensity of the spices struck me and I froze. I could neither swallow nor spew the food out; the experience of Shahida's delicate cooking was clearly not enough to prepare me for this onslaught. An elderly Indian gentleman saw me and understood my predicament. He came up to me and asked me to keep still. He returned with half a lemon and asked me to open my mouth and as I did so, he squeezed the juice inside. I felt my breath back. His words of advice were that I must never take water or tea with hot spicy Indian food. It must always be a squeeze of lemon!

However, I never had a repeat of this experience because I was wiser; I always tasted a small morsel before tucking into large portions and also found tomatoes to work well. 
I travelled to India 11 times, in which on two occasions stayed for 8 months. I visited Pakistan 4 times and travelled extensively, staying in homes of local residents, in villages and cities. I found Pakistani cuisine comprising more of meat dishes than vegetables. Otherwise the food is quite like what I had eaten in India. They make similar daal, samosas and of course biryani that is everywhere2. What follows is a biryani tale.
Once I was invited to a conference in New Delhi organised by the Progressive Writers of India in the late 1980s. I made all the necessary arrangements, secured permissions, visa and ticket. A couple of days before I was to leave, I received a call from Kamar Rais, a famous Urdu scholar who I had met in Tashkent. He called to inform me that the conference had been postponed by a week. I was in a quandary and rushed to the administrative officer in the Moscow Radio for advice. He asked me if I knew anyone with whom I could stay in Delhi for a week. Shahida and Ranjit by then had moved back to India and lived in New Delhi and I knew I could always stay with them. So, I told the officer that I did indeed have a home to stay in. He said then just go and I did!
As soon as I got to Delhi, Shahida told me that the well-known Urdu writer, Jelani Banu and her husband Anwar Moazzam, the famous scholar who lived in Hyderabad in southern India had called several times asking for me3. Anwar had a special name for me. He called me Karishma Khatoon. We were introduced not too long ago in Moscow where I had been their interpreter. He and Jelani were making a TV serial called Pyar ki Manzilen (Destinations of Love) in which there was an episode involving foreign scholars participating in a Round Table Conference. They found a Russian teacher from Osmania University in Hyderabad but when they got to know that I was visiting India, they wanted me in the serial.
Jelani sitting in the centre, Anwar on my right
I agreed to travel to Hyderabad since I still had a week before the conference was to begin. But the problem was getting an air ticket to Hyderabad in short notice. It was very expensive for me to buy as a foreigner. Intervention at the highest level of the Indian government followed and with the special permission from none other than the Prime Minister of India, I.K.Gujral, I was offered a ticket at the local rate that my hosts in Hyderabad paid for. My stay and the TV shooting went off very well and it was time for me to return to Delhi. Jelani was, however, a little unhappy because she wanted me to visit her brother who I had met in Moscow. He was a well-known Physicist and according to his doting sister, was also celebrated for making the best biryani in Hyderabad. Unfortunately, I couldn't make time and instead of taking me to his uncle's place, Farhan, Jelani's son had to drive me to the airport not before feeding me to idlis that I just love4.

At the airport, while I waited it was announced that the flight I was to be on, had been cancelled. I panicked and rushed to the counter, showed my ticket and the invitation to the conference and said that I needed to be in Delhi that night. The person at the counter very kindly accommodated me on the later flight that was to leave at 7 in the evening. That gave me a few extra hours in Hyderabad. But I didn't know how to reach Farhan and Jelani. I came out of the airport to the car park and found that they were still there. Jelani was ecstatic. She called her brother that we were coming to have biryani and we dashed off! I had the unforgettable experience of the most delectable biryani I had ever had. This was only made possible because of the delay in the flight. I was reminded of the Urdu saying: 'Your name is written on every grain you eat.'5 So, I was destined to eat biryani that afternoon, after all!
Irina Maximenko lives in Moscow
Footnotes