Click here to read PART1 of this story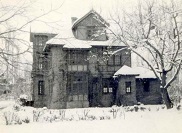 The entire family left Murshidabad overnight, leaving behind everything- enormous property, their roots, turning into penniless migrants. They walked on and on till the pot of water slipped and fell, consecrating a piece of land which is today called Mankar, near Durgapur1. They built a house. They settled and started  farming. They knew administration, and soon they established themselves as zamindars. The huge fort-like Biswas Bari(Biswas House) still stands proudly. I have heard from family elders that the same Khnara used by Ranga Ma is still used today for bali (sacrifice) on Ashtami2 during Durga Puja at Mankar.                       
Probably the Khazanchi did not survive long. The story handed down tells us of three brothers, his sons, amongst whom the second and third did not see eye to eye owing to rivalry over ownership of property. The second brother killed the youngest, that too in the family temple, and the eldest brother decided to move out of the house sullied by brother's blood. The slain youngest brother's wife and children decided to accompany him, as did Ranga Ma. Thus the eldest and the youngest branches moved out, and started migrating North West. They reached the holy city of Kasi (Varanasi), and took up residence for some time. It is not known if Ranga Ma decided to abjure material life for a life of spirituality in Kasi, as was common among Bengali widows, or if she died. But the remaining family continued its march onwards towards the unknown and reached Lahore. This was the Lahore which became the capital of the great Sikh Maharaja Ranjit Singh3who captured it in 1799. 
Bengalis were in demand as teachers and doctors, and the family very easily found jobs to support themselves, and settled down. The eldest of the family by that time was Mahesh Biswas, who established a flourishing silk-trade, bringing artisans from faraway Murshidabad. Murshidabadi silk holds the banner for Bengal silk industry even today. But he faced a problem, as silk-worms needed to feed on mulberry leaves, and mulberry trees did not grow in Punjab. Instead, Mahesh Biswas found large sources of mulberry trees in the forests of Kashmir which was under Ranjit Singh. The business flourished and convoys of donkeys would regularly come to Lahore laden with mulberry leaves. And the family property grew, if not to the proportions of Murshidabad glory, but to a high level of affluence. As my father was describing the various rooms and gardens and stables of horses and cars, he mentioned that even he as a student in the Lahore Engineering College, probably  DVS College of Engineering, had a two-seater Ford car! That would be, by my calculation, around 1932. The affluence lasted for over a century.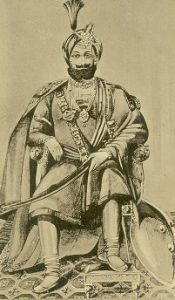 After Ranjit Singh's death and subsequent defeat of the Sikhs by the British in the Anglo-Sikh War of 1845, the state of Jammu and Kashmir had a Dogra king called Maharaja Gulab Singh from 1846. This affected the Biswas fortunes because till now, the mulberry leaves were procured from within the same state. Now one day the convoy of donkeys were spotted by none other than the Maharaja Gulab Singh himself who was out on a shikar(hunting). He immediately halted them and made enquiries. Coming to know of the silk trade in Lahore, he commanded that mulberry leaves would not move out of his state, and the Bengali merchant should come to his court for negotiations. Mahesh Biswas was forced to wait upon the Maharaja at his durbar. The king received him kindly, and ordered him to shift base to Kashmir where an acre and a half of land was immediately decreed to him at the foot of the Shankaracharya Mountain, and all help and support laid at his disposal, with one condition that he would have to teach Kashmiris silk trade. Silk was known to Kashmir through Chinese merchants who crossed Kashmir and moved on through passes in the Hindu-Kush mountains crossing Afghanistan and finally reaching Europe. But this was the establishment of silk trade in Kashmir. And our family again moved  from Lahore to Srinagar.
But this time the base in Lahore remained. Some members in government jobs preferred not to move. The house as per joint-family custom, remained for the use of everybody and Lahore being a well known centre of education and culture, was the preferred destination in Punjab. Mahesh Biswas moved to Kashmir with his younger brother Kshetranath Biswas who later became a school teacher and was immediately engaged as private tutor to the son of the Maharaja.
Mahesh Biswas was ultimately not very successful in re-establishing his silk industry in Kashmir. Owing to the intense cold winter, his artisans did not like to stay and went back to Lahore with the privileges and attractions of a major city, the capital of Punjab. The trade was taken up by enterprising local craftsmen who weaved their traditional Kashmiri motifs of Persian heritage on the new silk. And that is the famous Kashmir silk, one of the best known silks of India. But his affinity to the Maharaja and to his successors Maharaja Ranbir Singh and more importantly Maharaja Partap Singh brought out the Khazanchi blood in his genes and his administrative prowess. He was given charge of the Royal Protocol with the title of Huzoor Khatir–e-Tawaza. Being a man of wide travels and experiences in Lahore, he was deemed the best person in the Durbar or Court to attend to outside dignitaries and ambassadors, many of whom were British. And he shot to fame in that calling and was hugely successful. Much later, in the third generation, my father proudly claimed that his younger brother was currently holding that very position, now modified and anglicized to firstly Controller Tawaza and then upgraded to Director of Tourism and Protocol. And we were going to meet him in Kashmir in two days time!
Kshetranath Biswas had a brilliant son Abinash Chandra Biswas. He was fortunate in having a very intelligent wife Indumoti (also called Manorama because of her beauty), who used to take her son Abinash to school and back. As they walked back after school, she would ask him what the teachers had taught. In all likelihood, uneducated herself, as was the fate of girls married off at a tender age, she learnt from her son and would write letters and do arithmetic on the floor using cold ash, next to the fire-place. But next day enroute to school, it was she who was the task master! And Abinash had to answer and repeat the lessons of the last day! Her mother's guidance helped Abinash be the topper in Matriculation Exams and the King, now Maharaja Partap Singh, gave him a royal Scholarship to study Engineering in Roorkee Engineering College with orders to return and establish Telegraphs and Telephones in the state of Jammu and Kashmir. When my grandfather Abinash Chandra Biswas returned, he was instantly appointed Superintendent of Telegraphs and Telephones, the highest Government post in those days reporting to the Minister. He had to pay three gold mohurs or coins as nazrana (gift) to the Maharaja on Durbar days while ministers paid four and the Prime Minister paid five mohurs. His photo in Durbar regalia, adorns our sitting room in Durgapur.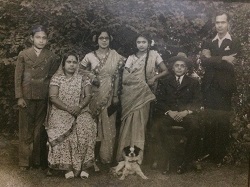 Abinash Chandra Biswas and Sarajubala Debi had two sons and two daughters – Amar Kumar, Anima, Samar Kumar and Ashima.     
The younger son, Samar Kumar Biswas, was in the Jammu and Kashmir Militia. During the 1965 Indo-Pak war, he was lost for a month, his platoon wiped out. All took him for dead and my father's hair turned grey overnight, but fortunately he returned dressed like a Kashmiri villager, who had sheltered him and nursed him to life. The the-then Chief Minister Sadiq Saab was the class-mate of Abinash Chandra Biswas, and immediately got him released from military duty and appointed him his Personal Assistant. With benign pride, my father said that his younger brother Babu was now the Director of Tourism and Protocol! The Sardarji was listening spell-bound! When he found the story-teller Mr. 'Biswal' stop, he asked 'and what happened to Amar Kumar the eldest son of Abinash?' He had just forgotten that the story teller was the same person. My father smiled and said 'Oh he is just a soldier in the Army.' 
My father Amar Kumar Biswas left  behind my elder sister Sivany, myself and my son Ananda to carry forward the Biswas lineage and memorialise his stories.                 
Click here to read PART1 of this story
Sivasish Biswas is Professor of English in the Department of English. He is at present Pro-Vice Chancellor at Assam University, Diphu Campus, Assam.
Prof. Biswas served in the northeast since 1987 in different institutions including Mizoram University.  He was a Fulbright Scholar during 2013-14 at Central Arizona College, Arizona.
Footnotes