In 2010 I was working as an External Fellow of MAKAIAS1 and studying cultural heritage and identity  of the Lepcha and Mangar communities of Darjeeling and Kalimpong 2. The study was based on extensive fieldwork which took me and my cinematographer associate, Tapash Ghosh to the region, quite frequently. In every visit, we spent weeks at government owned guest houses that always proved cost-effective and comfortable. For one such visit, in December 2010, I planned an eleven day trip so we could shoot two major festivals. Little did I know that this would also be one of my more terrifying expeditions.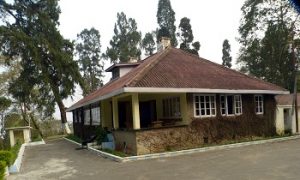 A friend of mine – a senior government official – suggested that this time we stay at the Police guest house in Kalimpong. He said that we would like this former colonial bungalow that offered a comfortable space and a bit of history. So we were brought to the guest house one evening by our local associate and escort, Bhanu Thapa. The building was indeed impressive and beautiful. As we were the only guests staying there at the time, we not only had the luxury of two spacious bedrooms with attached baths but also had access to a sprawling living area, dining space and kitchen, to ourselves. The house was situated in a slight elevation and was surrounded by a garden and large trees. "A perfect place for our next family holiday," I thought to myself. "We would also be able to bring along my mother-in-law, still strong and able to travel." 
The Beginning of An Uncanny Journey
Our evening was perfect – although we were tired after the journey, the caretaker of the house, Navin Tamang, cooked us an excellent meal. After dinner we retired to bed, happy that we had the opportunity to spend eleven days in such a beautiful bungalow.
However, the contentment of the evening was short-lived – at least for me. That night – around midnight – I was rudely awoken by the feeling that someone was pulling at my blanket. Initially, as I was half asleep, I simply pulled the blanket back, tucked it in and returned to my slumber. But the pulling continued and with every tug, I felt more awake. Suddenly, after about twenty or so minutes of this, the tugging stopped and I was filled with a feeling of dread. Mustering my strength to turn on the lights in the room, I checked to see what my night-time irritation was; but there was no one there. Filled with a mixture of intrigue and fear, I tried to fall back to sleep and only woke up when Tapash called out to me in the morning.
At breakfast, I talked about my experience to Tapash and Navin, to which both reacted oddly. Tapash exclaimed – "Oh! You had the same experience?" But when I probed him further he fell suddenly quiet. Navin simply said that I was imagining things but I had a feeling that he too was hiding something from me. However, we had a busy day ahead with a planned visit to the Lepcha museum and then a meeting with Sonam Tshring Lepcha, a local musician. And amid all the activity, I forgot about my ghostly night.
Once the day was over, we mused over a cup of tea against the gorgeous view of the Kanchenjunga from the balcony of the house – by this time, my experience was but a faint memory. After dinner, however, some of my trepidation returned. Navin lit a few Tibetan incense sticks that evening, saying that it would dispel my nightmares and it seemed to work – I had a peaceful night's sleep. However, based on Navin's advice, I kept the halogen heater on all night. He said that it would keep me warm and a little light in the room would do no harm but I knew he was not saying something to me. From then on, I kept a photo of Goddess Kali next to my bed on the side table.
As the expedition continued, the days passed on swiftly, but the nights remained unnerving. I would feel a tightness around my body every night between the hours of two and four in the morning. During these spells, I would wake up, unable to move or sleep – as though I was being pressed down against the bed by some force that refused to yield. I knew that Tapash could not sleep much either – though he never talked about it – I could hear him pacing up and down all night. He would leave the house at dawn to go for walks – I found this odd given how cold it was in mid-December. His wife Debjani had never told me that he was an early riser, neither that he was especially conscious of his health. I once asked Tapash if he knew anything about the history of the guest house and he gave me an evasive answer; something about what a funny story it was and he would tell me someday. He also kept telling me to spread the blanket over the bed before going to sleep – I was never sure of what he meant, besides the bed was very large and what would be the use of such an extraordinary act?
Sanctuary Among the Hills
I enjoyed the work; the natural beauty of the place, the long journeys through the mountains and the early starts would daily drive my fears of the night away. On one of our excursions we traced the Kalimpong silk/wool route right up to the Tibetan border – it was rather a daring journey with steep roads through the mountains on a sturdy but a touch rusty, Maruti Van. Tapash captured the journey in his video camera. Shamta Thapa, our driver was very excited about the trip.We passed warehouses that were at least five hundred years old where Tibetan wool was processed and dyed by the local people. Like the local merchants who travelled via this route to the most remote corners of India, we too lost ourselves in the romance of travel.
The Lepcha community not only constitute the oldest inhabitants of the region but are among one of the oldest communities in the world. They made settlements on the route of the silk/wool trade offering hospitality to the Tibetans and in return received their essentials and fancy items from the traders. I retraced their journey by interviewing the surviving Lepcha families in villages on both sides of the road. Our journey ended in Ling Them in Sikkim just 60 km away from the China border. It was a risky drive through narrow hilly path and deep gorges on either side and when we reached, after driving through Reshi Khola and Rhenock in Sikkim, the sunlight had dimmed. There was only one shop and two houses that had both been converted into homestays for the odd trekker. The serenity and beauty of Ling Them was unbelievable. We stopped there for a bit, eating the instant noodle meal the girl in the shop had made us. 
Not much had changed in these parts. The Tibetan merchants still came in large groups with women and children. They brought silk, raw wool, stones, rock salt ritualistic armlets etc. Some among them stayed back in Kalimpong and in other parts of the hills. Many returned with necessary commodities, such as dried meat, dried and fresh vegetables and so on, handicrafts and accessories for rituals, from Nepalese artisans. I became friendly with a family who had been running a five hundred year old ancestral workshop producing totemic figures.
From Heaven to Earth
Without fail, however, I would return to those nightly terrors and hear Tapash's footsteps. The last night we spent in the bungalow was Christmas day and the Bara-Mi-Jong festival of the Mangar community. As usual, we started early to reach the festival location which was in a remote village, exclusively inhabited by the Mangar community. A few hundred people gathered for the ritual and feast in the sacred spot. It was a busy day of shooting and interviewing and we returned to the guesthouse very tired indeed. After dinner, Tapash went out to buy mineral water bottles but he was late and I felt restless being alone in the house. He returned in a shaken state – his trousers were torn and he had a few small injuries on his hands but he did not explain what happened to him, he just mumbled that he had lost a 5 rupee coin. That night –our last in the guest house – would be the worst we had had so far. Tapash suggested that we stay up all night chatting but we were both very tired and eventually retired to our respective rooms. He told me to keep all the lights on and to call him if I needed anything.  
I did as he asked but couldn't get to sleep immediately so I continued with my book. Suddenly I felt the curtain on one side of the room moving as if someone was standing behind it. It couldn't have been a draught for the windows were closed and the room felt warm. I checked to see if there was anyone in my room but found nothing. Suddenly, my daughter called. She was sobbing over the phone as she had missed a deadline for application to a leading American university. Ordinarily, I would have been perturbed about this missed deadline too, but this time, I was too distracted and nearly scared to death. Instead I whispered that I couldn't talk to her and would call back in the morning. Sensing the fear in my voice, she also got worried and asked what was wrong – I didn't tell her.
Around midnight, the curtains started moving again. I was so terrified that I ran into the bathroom but it smelt very strongly of Chuta, the local cigar. I could not bear it anymore and shouted for Tapash who was also awake. I feared that there could be a stranger outside. When Tapash entered the bathroom, the smell was gone. We talked for a while and Tapash returned to his room. I sat up straight for the rest of the night without blinking an eyelid. The night of  horror eventually passed.
In the morning Tapash and Navin woke me up. Finally, Tapash told us about his experiences in his own room. From the moment he stepped into it, he felt like there was someone behind him, he even heard footsteps. While he brushed off these initial experiences, strange things kept happening. A glass of warm water heated by a small immersion heater he always carried would not stay warm for even a minute in there. He once thought he saw someone lying beside him in bed and that why he walked in the room throughout the night and left it as soon as dawn broke. It is also why he laid out his blanket to cover the entire bed.
A House of Horrors
Navin then told us the story of the bungalow. It was built in the late 19th century and had once belonged to a European gentleman who sold it to a Tibetan trader before returning to his country. The trader lived there with his wife and two sons. In addition to silk, he engaged in the trading of illegal arms across the border. In 1917, he was summoned by his partners in Tibet and was murdered by them. When his two sons went to Tibet to search for him and they were also killed. The trader's wife turned a destitute and sold the property to a Marwari family but the curse of the bungalow befell them soon. The wife of the new occupant died immediately after they moved in and since then the ownership of the house changed in quick succession after that as awful things happened to every family that lived here. Then it became bungalow for the local Superintendent of Police (SDPO), followed by the bungalow of the Customs Department and eventually the bungalow was turned into a Police guest house.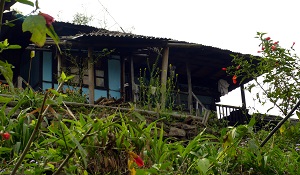 Navin also told us about his own experiences in the house. He had been the caretaker of the house since it was the SDPO's bungalow. He would wait for the master who left early in the morning and would return home late into the night. One day, as he waited, he noticed that a chair in the living room had moved and so he put it back in its place. When he looked back at it, he found that it had moved again. He got so scared, he decided to wait outside and dozed off in the balcony. He was woken up by the officer who berated him for keeping the door open. Navin told him that he had not opened the door. The officer moved out shortly after. Navin even showed us the guesthouse register – we were the only ones who had stayed in the house for more than a night in the last two years. On our final evening. Tapash told me that he felt a mild push as a kind of warning while returning with the mineral water bottles. He fell because of the push. He had not tripped.
When I returned home, I had high fever and was bedridden for at least ten days. My family and friends asked me why we stayed on. It never occurred to me that it was a haunted house at the time and I simply thought I was imagining most of it. It was only the events of the final night that made me realize what we were really in.
Tapash and I returned to Kalimpong many times after that. We found the bungalow laying in ruins and surrounded by long bushes. Navin was successful in obtaining a transfer. It was a singular experience for Tapash who travels to the remotest corners of many countries. He later said that we had been fortunate to have got away from the house without any major harm.

Dr. Nandini Bhattacharyya Panda is a historian and author who works on hill communities of Darjeeling, Sikkim, Nepal and Northeastern India. She divides her time between New Delhi and Kolkata.
Footnotes