It was the end of December, 2010. I had been working as an External Fellow of MAKAIAS1 on the cultural heritage and identity movement of the Lepcha and Mangar communities of Darjeeling (Kalimpong was not a separate district at that time)2. The study was based on field work and interviews of people belonging to the two communities. Tapash Ghosh used to always accompany me on my field trips as the cinematographer. We used to stay in different government guest houses because they were cost effective and good. In December 2010, I planned  a trip for eleven days to shoot two festivals of the Lepchas and Mangars. Our friend who was a senior official in the  government of West Bengal graciously booked the Police Guest House in Kalimpong.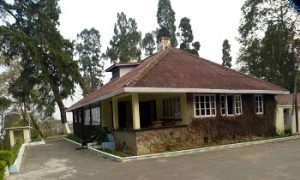 We reached in the evening; our local associate and escort was Bhanu Thapa. It was indeed a beautiful bungalow – two bed rooms with attached baths, a beautiful living room, kitchen and dining space. Situated on a hillock, it was surrounded by large trees and garden. I was so impressed by the guest house on arrival that I decided that I must get my family on our next vacation. My mother-in law was alive and strong at that time.
We had excellent dinner cooked by Navin Tamang, the caretaker of the guest house. After dinner we went to bed, tired but happy that we had the opportunity to stay in such a beautiful western style bungalow.
The comfort, however, was short lived. At midnight, I was rudely awoken when I felt someone pulling at my blanket. I tried to tuck it back in, wrapping it around my body with all my strength. I don't remember how long this tug of war went on-in all likelihood for twenty minutes. After it stopped and I was free, I got up from bed and switched on the lights. No, no one was there. I checked the bathroom as well and found no one. I was intrigued. But went back to sleep.
I woke up when Tapash called in the morning. We had to visit the Lepcha museum and meet the musician Sonam Tshring Lepcha3. When I described my experience to Tapash and Navin,  Tapash instantly said, 'Oh you had the same experience?'  I asked him what? But he fell quiet and did not tell me anything. Navin told me that I may have imagined the whole thing. I let it pass convinced that I had imagined the midnight tug of war over the blanket.
Over a cup of tea, we watched the gorgeous view of Kanchenjunga from the balcony of the house. I forgot all about the uncomfortable night.
In the evening, Navin burnt some Tibetan incense sticks. I asked why. He said that this would dispel my nightmares. I did not have any uncanny experience that night. Navin, however, told me to switch on the halogen heater throughout the night which would provide both light and heat. I sensed that everything said to me was not true. I kept a photo of Goddess Kali next to my bed on the side table.
We stayed there for eleven days. Every night I felt a strange feeling of tightness around my body from about 2.30 up until 4 am. I would wake up, unable to move or sleep, as if I was being pressed down by some force. The tightness in the body used to go away after 4 in the morning. Tapash could not sleep well either which I gathered from the sound of his footsteps throughout the night. I found it strange that he would go out for his walk sometimes before 5 in the morning. I was quite intrigued at his health consciousness for it was the month of December and Kalimpong was very cold.
I asked Tapash about his strange habit. Debjani, Tapash's wife never mentioned that he was an early riser and very conscious of health. I asked him several times if he knew anything about the history of the house. His gave me an evasive answer that the story is funny and that he would tell me later. But at the same time, Tapash asked me time and again to spread the blanket in that 8ft/9ft huge bed. I couldn't understand what he meant. We used to go out very early in the morning. My nocturnal experience continued. I tried to forget the eerie nights or possibly I did not wish to recall them. 
In fact, natural beauty of the place and long drives through the mountains, dispelled my fear of the nights. I wish to share one such journey. We undertook a daring trip of travelling via Kalimpong silk/wool route to the Tibetan border. Our team of four including the driver of Maruti Van started at 6 am from the century old wool warehouses. Tapash captured the journey in his video camera. The big warehouses were at least five hundred years old. Tibetan wool was processed and dyed in the warehouses. The local men and women did the dyeing and processing. After processing the local merchants and the Tibetans who stayed back travelled to the remote corners of India and outside to sell their wares.
The Tibetans used to come in large groups with women and children. They brought silk, raw wool, stones, rock salt ritualistic armlets etc. Some among them stayed back in Kalimpong and other parts of the hill. Many returned with necessary commodities, such as dried meat, dried and fresh vegetables and so on, handicrafts and  accessories for rituals, from Nepalese artisans. I became friendly with a family who has been running their workshop to produce totemic figures and accessories for last five hundred years. They still produce for the market in Tibet and local Tibetan residents.
The Lepcha community form the oldest inhabitants of the region and one of the oldest communities in the world. They had settlements on the route of the silk/wool trade. The Lepchas used to offer hospitality to the Tibetans and received their essentials and fancy items in return. I retraced the journey to interview the surviving Lepcha families in villages on both sides of the road. Our journey ended in Ling Them in Sikkim, 60 km away from the China border. It was a risky journey through narrow hilly path and deep gorges on either side. We reached Ling Them via Reshi Khola and Rhenock in Sikkim. The sunlight became dim when we reached Ling Them. There was only one shop and two houses converted into homestay. The y and beauty of Ling Them was unbelievable. The young woman in the shop cooked some Maggie for us. Shamta Thapa, our driver was very excited about the trip.
 Well, I had same experience every single night and heard Tapash's footsteps without fail. The last night we spent in the bungalow was the Christmas day and also Bara-Mi-Jong festival of the Mangar community. As usual we started early to reach the festival location in a remote village, exclusively inhabited by the Mangar community. A few hundred people gathered for the ritual and feast in a sacred spot. I was busy interviewing and Tapash  shooting. We returned, very tired. Tapash went out to buy mineral water bottles. He was late and I felt restless being alone in the house. On his return, I found his trousers torn with few injury marks in the hand. He did not elaborate about how he had fallen down. He just said that he lost a five rupee coin.
That night was the climax; we were to return the next day. Tapash told me after dinner that we should stay awake the whole night and spend it talking. We tried hard but failed because both of us were very tired. I told Tapash to go to his room and would call him, if necessary. He told me to keep all the lights on.
I was trying to read a book. Suddenly I felt the curtain on one side of the room moving as if someone stood behind it. It couldn't be any draft for the room was warm. I went up but found no one. My daughter called at that time, sobbing as she missed a deadline for application to one of the leading American Universities. I would have been very perturbed under normal circumstances about this missed deadline. But at that point, I was scared to death.  I told her that I could not talk. She also became frightened at my voice and asked me why not. Obviously, I did not tell her anything. After a while (around 12.30 am) the same thing happened with the curtain. I rushed to the bathroom and felt a very strong smell of Chuta, local cigar. I could not bear it anymore and called Tapash who was also awake. I feared that there could be a stranger outside. When Tapash entered the bathroom, we could only smell fennel. We talked for a while and Tapash returned to his room. I sat straight for the rest of the night without blinking an eyelid. The night of horror passed. Tapash called me at 5.30. Navin was also there.
Tapash then shared his experience. He heard footsteps behind him the moment he entered the room. He always carries a small immersion heater. In his room, he could never keep the water hot in the glass beyond 30 seconds. His glasses changed the sides of the bedside tables. He found someone lying beside him in the bed. That was why he walked in the room throughout the night and got out so early. He used to tell me to spread the blanket in the bed. I finally heard the story in the morning of our departure.
The bungalow had belonged to a European who sold it to a Tibetan trader before returning to his country. The Tibetan lived there with his wife and two sons. In addition to trading in silk, he was also engaged in illegal arms trade with partners in Tibet. Once, he was summoned by his partners in Tibet and when he went there, he was murdered. The year was 1917. Two sons then went to Tibet to search for him and they were also killed. The wife turned a destitute and sold the property to a Marwari family. The wife of the new occupant died immediately after they moved in. The ownership of the house changed in quick succession as awful things happened to every family that lived here. Then it became bungalow for the local Superintendent of Police, followed by the bungalow of the Customs Department. Finally, the bungalow was turned into a Police guest house.
Navin told his own horror experiences. One of them was when it was the SDPO's bungalow. The SDPO usually returned quite late at night or at dawn. Perhaps he felt uncomfortable too. On one such night, Navin was waiting for the officer. Suddenly, he found a chair (the chair was still there in the room I was in) had moved in the living room. He got up to keep the chair in the proper place, fearing the officer would be upset. But then he found that the chair had moved again and returned to the original place. He could not stay inside. It was summer and therefore, he decided to wait outside and dozed off. He was woken up by the officer who berated him for keeping the door open. Navin told him that he had not opened the door. The officer moved out shortly.
Navin showed us the register. We occupied the rooms after two years. Before us, no one stayed more than one night. Tapash told me that he felt a mild push as a kind of warning while returning with mineral water bottles. He fell because of the push. He had not tripped.
On return home, I had high fever and was bedridden for at least ten days. My family and friends asked me why we stayed on. It never occurred to me that it was a haunted house at that point of time. I thought I am imagining too much except for the last night.
I returned to Kalimpong many times in 2015 and 2016 while making a documentary film on the Lepcha community, with Tapash and others of the team. We went past the bungalow, which lay deserted and surrounded by long bushes and in ruins.
It was a singular experience for Tapash who travels to the remotest corners of many countries. He later said that we had been fortunate to have got out of the house without any major harm.
Navin was successful in obtaining a transfer.