I've been thinking of my father a lot, of late. It's been ten years since he's been gone and he still leaves a huge hole in my life that will never ever be filled. When I was in a quandary, I would turn to him and he would always tell me what to do – which was to do what I thought was best! That was so typically Baba – always trying to get us to think for ourselves and stand on our own two feet.
I arrived slightly late in Baba's life – he was just shy of fifty. But he was not an old fifty – he was strong and healthy and young in his heart and mind. Baba was my friend – a critical one sometimes, but definitely a friend – someone I could discuss anything with, without fear of being reprimanded or judged. He would always encourage me to try things out for myself to figure out whether it was good for me or not – to be brave and adventurous. Just like he was.
So, today, I'd like to tell you a little about Dilip Kumar Bhattacharya – the strong, the brave, the adventurous, the committed, the principled – my father. He was born in 1922 to Lilavati and her school teacher husband, Priyanath. Baba was a conscientious student, topping the state in his school-leaving exams and coming first in his MSc (Physics) exams. But he certainly wasn't a nerdy geek – he had University Blues in football and rowing and was also a strong swimmer.  
Baba had inherited his mother's love for reading and his boyhood days were filled with stories of voyages, exploration and daring. It was this love of adventure that made him join the Royal Indian Navy, keen to be a part of the World War II action. When the war ended, he was given a choice of staying on in the Navy or joining the Indian Civil Service (ICS) as part of a special War Service batch – he chose to join the ICS, mainly because it was something new.
While he was being trained at the Metcalfe House in Delhi in 1947, India became independent, the Indian Civil Service became the Indian Administrative Service (IAS), and he one of its first serving officers on the cusp of history.
His 33 years in the Civil Service were more varied and exciting than most bureaucrats could possibly hope for, again primarily because he put himself forward for the unusual assignments. Baba's first posting after his training was to administer a refugee camp in post-partitioned Punjab – not an experience for the faint-hearted. This didn't colour his judgment in any way and he remained unbiased, non-partisan and secular (in the Indian sense of the word) throughout his life.
In the 50s, Baba went to Indochina as a part of the UN peacekeeping mission in Vietnam, Cambodia and Laos. When we squirmed at his stories about eating rats, he would always tell us very seriously that they were oh-so-tasty!
He came back to India to help set up the Special Security Bureau (or Sashastra Seema Bal, SSB, as it is now known) on the back of the Chinese aggression of 1962. He was stationed in the Himalayas, building up a second line of defence in the villages along the borders.
During the late 60s, as the Chief Commissioner of Tripura, he was so committed to the development of the state that in the absence of proper roads, he would walk miles of hill track to meet the people and find out, for himself, the problems they faced.
Back in Delhi, he served with the Ministry of Defence and then the Cabinet Secretariat. Many years later, someone mentioned that my father had learnt the art of guerrilla warfare from an MI6 agent! So, we always wondered if he was some kind of Indian 007 – he neither confirmed nor denied this, just smiled his way out of it.
He set off for the hills again in 1972 – this time to Meghalaya – to set up the North Eastern Council, which was to be an agency for economic and social development in the north-eastern states that had until then had been slightly on the periphery. Not an easy assignment, to put it mildly – he routinely shared meals with indigenous tribal chiefs to show that he was no different from them.
After years of being away from his home state of Uttar Pradesh, Baba went next to Allahabad as Divisional Commissioner. There lay one of the biggest challenges of his career – the Mahakumbh Mela of 1977, a nearly 3-month religious Hindu festival that comes once in 12 years. Despite the treacherous weather conditions, due to his impeccable planning and dedication, for the first time ever, there was not a single casualty among the 10 million plus pilgrims who attended. He didn't take even one dip in the river during this most auspicious of Hindu festivals. But they said that the amount of 'punya' he earned by organising the Mela was far greater than what the dips would have got him. He moved into a tent on the banks of the rivers for the duration of the Mahakumbh and went about incognito, checking his officials were treating the poorest pilgrims with the same diligence as the rich ones.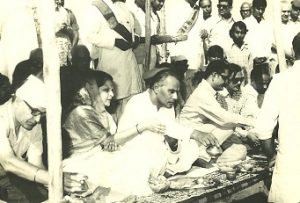 Baba was appointed Chief Secretary of the state of Uttar Pradesh in 1978. He went on to become one of the longest serving Chief Secretaries of one of the largest of Indian states, working under two different political regimes. Praising him for his previous work, an editorial in The Hindu newspaper during the time, said how for the first time in many years, Uttar Pradesh had got an apolitical Chief Secretary, full of integrity. Baba retired from the IAS in 1980 to take over as Chairman, UP Public Service Commission in Allahabad, for the next 5 years. This was his last full-time stint with the Govt of India, from which he finally retired in 1985.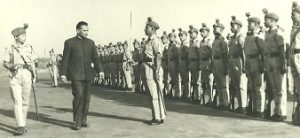 When Baba passed away peacefully on the 25th November 2010, he was at home, surrounded by his wife, children and grandchildren – loved and respected, just like he was when he lived. Reminiscences poured in from so many whom we had lost touch with over the years. They all had a common thread because they all talked about a strong, principled man who fearlessly held his own in any adverse situation. Some talked about how when he was 'gheraoed' in an industrial unrest and being threatened with death, he stood his ground saying that killing him wouldn't really solve the issue and managed to calm the situation down. My brother-in-law talked about Baba as a 60 year old physically picking a grown man up, who had broken a queue, and putting him at the end of the line. Others talked about his mental strength in resisting all kinds of temptations that come with power and staying honest, humble and principled right to the end, dedicated to serving his country and its people.
So, that is who Baba was. A man as strong in his mind as in his body as in his spirit. A man who loved his work as much as he loved his family and friends. A man who walked all the way up to the Kedarnath
temple, but didn't go inside because he believed that there was a Supreme Power and s/he didn't just live in temples.  A man who taught me to ride a cycle and drive a car. A man who taught me to make candles using papaya tree branches as a mould. A man who taught me how to compose a good photograph. A man who wrote letters and notes and made charcoal pencil drawings on scraps of paper because why throw good paper away. A man who read all the time because there was so much more to learn. A man who taught me that there was always something we didn't know. A man who told me that I should travel as much as I can because that was the best education. A man who taught me to experiment because that was the best way to learn what not to do. A man who taught me that language and words were very powerful. A man who taught me that, as a woman, it was even more important for me to be financially independent.
A man who lived and died by Longfellow's words:
                      Tell me not, in mournful numbers,
"Life is but an empty dream!"
For the soul is dead that slumbers,
And things are not what they seem.
Life is real! Life is earnest!
And the grave is not its goal;
"Dust thou art, to dust returnest,"
Was not spoken of the soul.
Baba, I miss you!
Mohua Bhattacharya, following ineptly in her father's footsteps, works for the UK Civil Service and lives in Cambridge with her family.