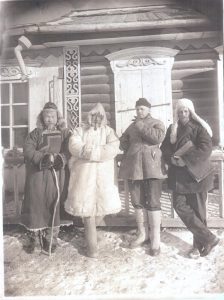 I was 15 when grand aunt Evgenia Khovanskaya died in 1975, leaving her home to my mother and me since she had no children of her own. Her younger sister was my maternal grandmother. Shortly after, I went to the house we had recently inherited, to sort things out and that was when I discovered letters and photographs of my granduncle, Ivan Dmitriev, historian and archaeologist and close friend of Nikolai Roerich, the famous Russian painter. I also discovered India, something that was to change my life forever, in ways I could never imagine.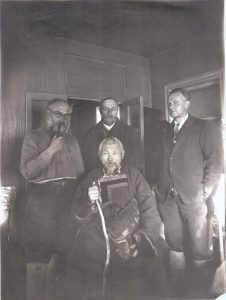 Ivan Dmitriev's photographs of India had completely bewitched me and I was very keen to visit that country but travelling abroad was not easy till things thawed with the change of government. In the winter of 1990, I was eventually able to make my dreams of many years come true, when a small group of us undertook the much looked forward trip to India. And events unfolded in the most magical way.
All of us in the group had severe hearing disabilities and some of speech too. It was the Director of the Indian Cultural Centre of the Embassy in Moscow, George Joseph who made it all possible with his unstinted assistance and support. I had to visit him so often that his wife, Rani, became a great friend of mine. Both were to play critical roles in my life. We were headed for Gopalpur on Sea, a well-known tourist destination overlooking the Bay of Bengal in the eastern province of Odisha. We had put up in Oberoi, a 5-star hotel, with all its facilities and services, including that of a photographer.
I noticed a young photographer who was assigned to take photographs of us and our different activities. He looked somewhat strange, a bit like a hippie with his long hair, hoops in his ears, beads around his neck and hands covered with bracelets. What flustered me somewhat was that I often found him staring at me. One day, while I was bathing in the sea, a large breaker crashed over me, toppling me over. Trying balance, I felt a pair of arms lifting me out of water and taking me ashore. It was the photographer. The moment was unreal; he had put his life in danger to save me. My heart skipped a beat and my feelings changed; he did not seem strange any more. We started talking. He told me his name was Sudarsan Gouda.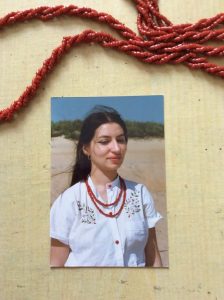 Sudarsan had to soon leave Gopalpur on work and as we  were due to return to Moscow;  he said he wouldn't be there to say goodbye. He presented me with a beautiful coral necklace instead.
On the day of our departure, as we boarded a bus to go to the airport, a young boy came running to tell me that someone was calling me. As I alighted the bus, I found Sudarsan standing. He had left his work so that he could meet me once before I left. I had made several sketches of my impressions of India, but they were all lost on the way from Gopalpur to New Delhi from where we took our flight home.
Back in Moscow, Sudarsan and I began writing to one another regularly. George Joseph once again was a great help as he let us use the diplomatic bag to send and receive letters in. During the coup of August 1991, I stopped writing from fear of government reprisal. Sudarsan became very worried and send me a telegram. When I did not respond, he got in touch with George Joseph to ask for my phone number. His concern spoke of his sincerity and commitment and touched my heart deeply. We carried on corresponding till the April of 1992.
Thereafter I became impatient and wanted to meet Sudarsan again and bring him back with me to Moscow. But I had no money. The economic turmoil that followed changes in the government made things very difficult. I sold some of my paintings to raise money, but prices had fallen, and I was only able to gather together enough to make the air fare. George Joseph was there once more. He arranged for a free visa for me to go to India. His only instruction was, 'Don't return without paintings and the husband.'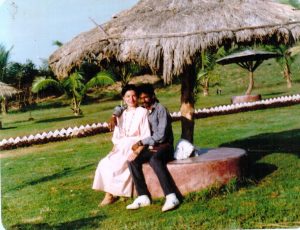 I reached the city of Cuttack by train and Sudarsan was at the station to receive me with his friends. The rest was like a dream come true. His family and friends were very warm and kind to me. We became engaged and decided to marry soon. I wanted an Indian wedding but Sudarsan had some constraints. I spent two and a half months in Gopalpur living with his two families-natal and adopted. We came to Delhi with just enough money for a one-way ticket to Moscow for Sudarsan. We still needed to get a visa for him. The kind official at the Russian Embassy heard our story and he too offered a free visa with a warning to Sudarsan that he would find it difficult in Moscow if he didn't know Russian.
We were married on the 30th of October, 1992 and have never looked back. I believe it was our fates to meet and make a life together with love and mutual respect and support.
With Sudarsan's complete dedication to our marriage I have been able to indulge in my own creative dreams. I loved to design beautiful clothes. In 2006, I graduated from the School of Fashion Textile Design and now I am both a painter and a textile designer. I also design costumes for the theater, especially Tartar.
I am also a member of Creative Artists Union of Russia and International Art Fund. I paint, I stitch, I knit, and I dance to express the deep happiness and fulfillment of my life that I owe to our love and togetherness.
My paintings of Gopalpur on Sea, a place I have come to love as my own.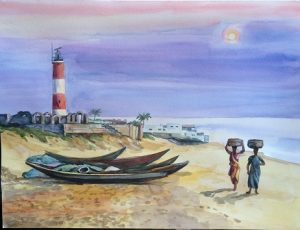 From the moment I saw Galia in the midst of a small group of Russians in Hotel Oberoi in Gopalpur, I knew she was special. She held me totally rivetted. I kept coming back to the hotel looking for this young beautiful girl who had blown my senses away. I found every opportunity to speak to her. I was thrilled when she reciprocated, and we began talking and getting to know one another. I had no problems communicating with her, despite her hearing impairment. I simply had to look at her and talk. She would read my lips. 
My family in Gopalpur is very modest, my father was retired clerk and our home made of mud and straw. I was raised by another couple who ran a small hotel in Gopalpur, nothing big or plush. Galina's presence was a sparkle of sunshine in my life. 
In June 1992, I received a telegram that I was to reach Cuttack station where Galina was arriving in a few days. I was shocked but equally ecstatic. It seemed too good to be true, and yet it was true. My immediate challenge was that I did not have enough money to go to Cuttack from Gopalpur. My friends and family gathered around me and lent me money. I met Galina at the station. The first thing she said was: 'I have come back for you. You must return with me to Moscow.' Our fates were sealed.
My parents were not opposed to our marriage even though they were worried about us being from two completely different cultures. My problem was that we couldn't marry in Gopalpur because my two older brothers and my sister were still unwed. It is customary in our part of the world that siblings marry in the order of their respective ages. 
Galina lived with my family for more than two months in the scorching heat of Odisha summer. There was no running water which had to be fetched from a distance and there were no chairs in the house; we sat and ate on the floor. The toilets were nothing like she was used to in Russia. But there was not a word of complaint from Galina.
In Moscow, she brought me to a place that to my rural Indian eyes, looked like a hotel. 'I don't want to stay in a hotel,' I said. 'This is my apartment,' Galia replied. At the front entrance, she made me take the first step into the beautifully decorated apartment in the heart of the city. We continue to live in the same place. 
I thank God every day for bringing us together. It was our 'karma' to meet and be together. I feel truly blessed.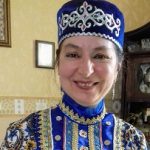 Galina Valuillina is an artist and a designer. She lives in Moscow.
Her website has more on her artistic work: http://valiullina-galina.ru