I am a 34-year-old mother of two beautiful children; Arina is 5 and Miron 3. I live in Moscow and strive each day to improve my life by becoming better than what I had been the day before, both in relation to the world around me and within myself. I am learning to live life based on the principles of positivity, kindness and of nature's beauty. This is not always an easy path and requires me to constantly work on myself.
I used to be a project manager before the birth of my children. I was in charge of the construction of a pipeline in the United Arab Emirates. It was a huge project valued at approximately 417 million dollars. Later I became involved in the organisation of one of the largest and most successful University Games in Russia, held in Kazan, being responsible for the opening and closing ceremonies in the summer of 2013. After the birth of my daughter of Arina, I moved into a private venture: I acquired the House of Beauty Granual and have remained its owner for the past 3 years.
It was Granual that offered me the right environment and created the context that forced me to make changes to my personality. I had to work with and manage a group of employees, 90% of whom were women that required a depth of understanding of human nature and reactions; I became aware how effective a smile could be, the magic key that seemed to open all doors!
My story of change, however, began more than 10 years ago. It was a beautiful English summer and I was trying to raise the level of my English at a British school in Folkestone, Kent. One afternoon, during break, my friend Angela Garcia who was Spanish and I sat chatting when our favourite tutor walked into the room and asked how we were doing.
  Angela, in her own inimical manner, responded looking joyous, 'I am fine.' Unaware of any implications and not thinking too much about it, I simply repeated what my friend said. But our tutor asked me to my surprise: Why do you always say that you are all right with an intonation and an expression that does not reflect your true state of mind ? His remarks got me thinking and what dawned on me, became the turning point of my life.
I began to deliberate on the theme of smiles on people's faces, to analyse the behavioural factors that induce smiles and their influence. And I came upon an interesting discovery. After all, a smile was nothing more than the movement of muscles on a person's face; it can be cultivated as a habit like any other, for example, one's posture. You get used to keeping your back straight till it becomes natural. Similarly, with a smile.
I then began to practise. Every day 3 times for 10 minutes I worked on the habit of smiling- a perfect Hollywood smile! At first the smile was like a grin, but I kept at it and did not stop. Day after day, I smiled, smiled, smiled!
After a while, the muscles of my face got used to a big smile, and the face looked different-more positive as the smile became a natural part of me! I found faces of people on the streets lighting up  as they reciprocated to my smiles. It was very encouraging to observe how something like a grey veil disappear and the faces of passers-by dissolve into sparkling smiles. Everything suddenly turns brighter and more beautiful!
It's been more than a year and a half since the moment when smiling has become an integral part of my life! I try to smile always, in all situations. And when something happens to spoil my mood, I first look at the situation with a smile and sympathy, and then I start to analyse it and find a solution. Being in the right frame of mind makes 50% of my tasks easy to accomplish.
A smile, like light, softens our facial expressions and gives it radiance; it makes us happy every day, day after day. I have so often found a smile melting hearts and bringing upon the brightest and kindest expressions in others.
My mantra therefore is

always smile more and life
will transform for the best.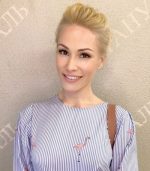 Ksenia Rossinkaya is an entrepreneur and lives in Moscow with her husband and two children.