In October 1976 I and my ex-wife Chrissy went out to India to live the spiritual life. We had gone there two years previously 'to find our Guru' as was the case with quite a few westerners at that time. On our return trip after travelling up from Mumbai (known as Bombay at the time), we had some wonderful adventures at the Ajanta caves1, and in the small hill village of Mandu2, as well as in Sanchi3 and Brindavan (where Krishna spent his childhood)4. Finally after two months we found a mud hut in the foothills of the Himalayas near Rishikesh, which is where the river Ganges emerged from the higher mountains.
Rishikesh is in the area where rishis (holy men) have lived the yogic life for thousands of years and where (we were told), whilst in spiritual/natural union with the universe they heard and extracted the mantras5 which were then used by themselves and others in deep meditation.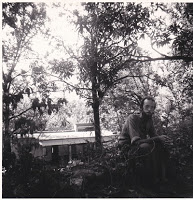 At five in the morning, we did breathing exercises and hatha6 yoga. This was followed by breakfast, having collected milk in a can from a man up the hill who owned a cow. After that, we meditated for an hour, then we repeated the practices in the evening. We would fetch water from a spring five minute's walk deeper into the forest, and whilst one of us cooked vegetarian food on an open fire, the other sat with a stick to ward off macaque monkeys who would race down to steal even a chappati. On one occasion, I was just round the back when a large male monkey entered our hut looking for food. Chrissy who was inside, shrieked which made the monkey mad. I heard the shriek and came running round and the monkey ran off.
With the forest all around us, we felt clothed in nature, especially with trees full of tasty mangoes. Occasionally we would cross the river in the small ferryboat and along with the pilgrims sing the song "Oh Ganga mai ganga mai ganga mai". In the town of Rishikesh, we would have a treat of Indian sweetmeats like burfi and gulab jamoon.
There were no cars on our side of the river and we got to know all the back paths, and regularly walked the main Lakshman Jhula7 path which was part of the pilgrimage trail to snowy Badrinath8.
But the tide turned for us as the rain season came and our hut filled up with 20 centimetres of water. Scorpions got flooded out, so one or two of them tried to make a home in our food bag. We had to move out of our beloved hut, over the river to a secure building. We had lived in that hut for seven months; then we moved on for another eight months staying in Bodh Gaya (where Buddha was said to have received enlightenment)9, and a lovely mud house in Tiruvannamalai10 all the way down in south India..But I've particularly never forgotten those times in our hut near Rishikesh, and they've left me with strong and beautiful memories.
Dave Ellis lives in Cambourne.
Footnotes